In Good Company- Andrea Hazzard
Andrea Hazzard
Photograph by Nels Akerlund Photography + Video
2013
LOCATION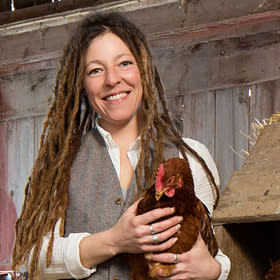 Mary's Market - East State St.
4431 E. State St., Rockford 
Andrea (Andy) Hazzard has worked on hog farms and horse farms, as a tumbling teacher, and as a barista. But she also grew up in a family of farmers. So it came as no surprise to anyone who knows her, when Hazzard opened her own organic farm seven years ago on hearly 10 acres of property in Pecatonica. 
"Farming came naturally to me," she says. "I've always had a garden and canned my own vegetables. I'm a hands-on type of person, and not a desk person. I need to be outdoors getting my hands dirty." 
On her farm, Hazzard grows a variety of vegetables including carrots, potatoes, garlic, beets, squash, broccoli and cherry tomatoes that are available for purchase. "Our customers are incredibly appreciative," she says. "I get thank you notes, messages and plenty of kind words in public. Our customers like the great lengths we go to provide good food for them." 
In 2011 the Hazzard family received the Conservation Farm Family of the Year Award. In addition, Hazzard serves on various farming committees and gives presentations on a broad range of topics such as local foods, gardening, farming and women in agriculture. 
And she can't imagine doing it anywhere else than right here. "I fell in love with the Midwest a long time ago," she says. "I enjoy driving through the countryside and seeing wildflowers along the roadside. And I defy anyone to find better soil; we have the best soil in the country. You can pretty much grow anything you want here." 
(Written by Paul Arco)