In Good Company- Anqunette Parham
Anqunette Parham
Photograph by Nels Akerlund Photography + Video
2013 
LOCATION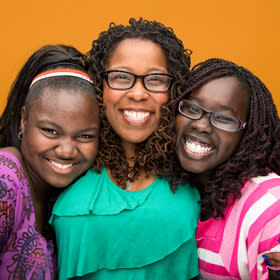 Crusader Community Health
1200 W State St., Rockford
Rockford native Anqunette Parham firmly stands behind the motto of paying it forward - when you are blessed you should be a blessing to others. "Many of the people that I serve alongside today are long-time mentors," she says. "I enjoy giving back to the same causes and organizations that gave to me."
For the past 10 years, Parham has worked in the Community Services Division of Crusader Community Health. Currently the Community Services Grant Administrator and a law student at John Marshall Law School of Chicago, Parham has performed a number of duties at Crusader, including HIV counseling, testing and prevention, community outreach, and other special projects that have addressed issues of health disparity.
In addition to her professional work, Parham has served many of the same organizations that assisted her when she attended Auburn High School, including the YMCA Black and Hispanic Achievers, the Rockford Association for Minority Management, and Alpha Kappa Alpha Sorority, Inc.
Parham credits a strong family core as the basis for her commitment to help those in need. Her parents have been married for 35 years, and have always stressed the importance of education and community services to both her and her sister.
"I was surrounded by adults who cared about my success and I want to give the same levels of support and energy that were bestowed upon me. I hope my former teachers, church youth leaders, and former mentors look at me today and see a return on the investments they made." 
(Written by Paul Arco)