In Good Company- Chris Wachowiak
Chris Wachowiak
Photograph by Nels Akerlund Photography + Video
2013
LOCATION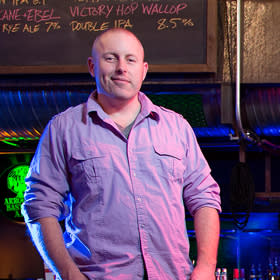 RACVB Office
102 N Main St., Rockford
Events ranging from the Screw City Beer Fest - which takes its name from Rockford's nuts-and-bolts industrial past - to the Great Downtown Dog Walk - a block party where man can bring his best friend - are among Chris Wachowiak's contributions to the cultural scene in Rockford.
When he left Rockford briefly to work in music sales in California, Wachowiak created the company's first green CD packaging. If you planted the biodegradable case in dirt, you could grow wildflowers. In high school, Wachowiak (pronounced wah-coe-ee-ack) was an extreme sports enthusiast with so many broken bones his friends called him Wacko.
"I was always a little out there," he says. "I didn't have that fear of failure. I had a fear of wondering, 'What if?' The reason I do all the crazy things I do is that my mind never stops. I'm constantly reading or thinking."
Few people encouraged him when he wanted to make the leap from bartender at the trendsetting Bacchus to owner of his own downtown drinking establishment in 2001. Thirteen years later, Kryptonite remains known for its unusual decor and eclectic live music offerings.
Screw City Beer Fest was a big gamble, too. Wachowiak fronted the costs to bring in craft brewmasters from across the Midwest and promote the immediately popular ale sampling.
"If it had rained the first year," he says, "Kryptonite would have been bankrupted."
Now Wachowiak is planning Brrr Fest, complete with snow sculpting and an outdoor ice lounge.
"I'm not out to save the city," he says. "I just want to create interesting things for people to do. Otherwise, it's just depressing - and I can't live that way." 
(Written by Mark Bonne)