In Good Company- Dan Jarrett
Dan Jarret
Photograph by Nels Akerlund Photography + Video
2014
LOCATION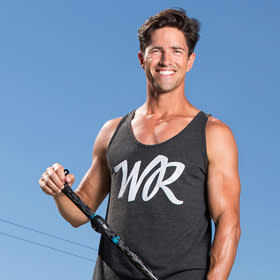 Octane
124 N Main St., Rockford
A Rockford native who spent the last 10 years living in New York City and who once aspired to be a veterinary doctor is riding what could become the next big tourism wave to hit Rockford.
Dan Jarrett is the force behind West Rock Wake Park, the first attraction of its kind in northern Illinois or southern Wisconsin. West Rock's electrically-powered cable system - suspended over the water by towers along the shore - whisks wakeboarders, kneeboarders and water-skiers around Levings Lake without the need for a boat.
Jarrett put together a public-private partnership to construct the wake park for $190,000. West Rock opened at Levings Lake in mid-August with deliberately modest fanfare, but still drew hundreds of visitors from metropolitan Chicago, Iowa and Wisconsin in its initial weeks of operation. At an introductory price of $20 that includes equipment rental, West Rock makes affordable what can otherwise be an expensive sport.
Jarrett believes that Rockford is awash with underserved water-sport enthusiasts; the longevity of the Ski Broncs performance troupe being but one example of that affinity. His own fascination began with water-skiing at age 5. Jarrett also believes that West Rock can stir an appreciation for the natural beauty and historic charm of Levings Park, an often underutilized park that is perfect for picnics, family gatherings, swimming, fishing, kayaking and other activities. The park holds great promise for the entire community, not just the neighborhoods on the Southwest Side of Rockford.
"Ten years in New York," he says, "made me look at Rockford as a whole better rather than: How fast can we move east? We need to draw a big circle and include everyone."
While Jarrett plans for the park's first expansion, he continues in his other line of work as a model for Macy's and others. Past labels include Armani, Levi and Land's End.
"There's nothing special about me," says Jarrett, whose brother, Ehren, is superintendent of Rockford Public Schools and whose father, Robert, is a retired surgeon. "I'm just bringing something near and dear to my heart to as many people as possible." 
(Written by Mark Bonne)