In Good Company- The Most Reverend David Malloy
The Most Reverend David Malloy
Photograph by Nels Akerlund Photography + Video
2012
LOCATION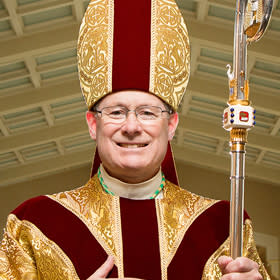 OSF St. Anthony Medical Center
5666 E State St., Rockford
In some organizations, you don't have a choice about where you work. So it is with Rockford Catholic Diocese Bishop David J. Malloy, who never had been to Rockford until he was appointed bishop here.
What he found was an 11-county diocese, sprawling from the Mississippi River to McHenry County. Living and worshipping within it are 400,000 Catholic faithful, of which nearly half are Hispanic.
Not that Bishop Malloy wasn't ready for that. Spanish is one of four languages he speaks.
Raised in Wauwatosa, Wis., in what he describes as a "very Catholic family," he earned a bachelor's degree in biology from Marquette University and then pursued theological studies at Saint Francis de Sales Seminary in Milwaukee. That took him to Rome for more study and he was ordained a priest in 1983. His studies didn't end, however. He has degrees in theology and Canon Law and has served the Church of Pakistan and Syria and at the United Nations. He also has been general secretary of the U.S. Conference of Catholic Bishops.
Bishop Malloy has become an admirer of the people of Rockford since he assumed his role here in 2012.
"They manifest the best of a Midwestern sense of common sense, humility and civic pride" as well as an appreciation for their local history, he says.
He hopes the city continues moving toward becoming "a community united in faith, family and therefore, in social cohesion." That will require leadership from civic officials, he notes, as well as from the Church and people of faith.
(Written by Geri Nikolai) 
NOTE: When visiting this exhibit, if you wish to take a photo, Saint Anthony Hospital respectfully asks that you do not have any of our patients or visitors in the photo. Thank you!