In Good Company- Doc Slafkosky & Jerry Kortman
Doc Slafkosky & Jerry Kortman
Photograph by Nels Akerlund Photography + Video
2013
LOCATION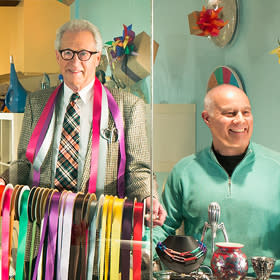 Garrett's
1631 N Bell School Rd., Rockford
As downtown Rockford comes back to life with new and innovative galleries, restaurants and shops, the young risk-takers making it happen to have two role models to emulate.
Doc Slafkosky and Jerry R. Kortman had this vision before some of the newest entrepreneurs were born. Twenty-eight years ago, the two opened the J.R. Kortman Center for Design and Cafe Esperanto on North Main just off State Street and waited to see what they had started.
"Rockford had turned its back on downtown and chosen the route of suburban sprawl and mediocrity," says Slafkosky, a flight attendant who once lived in New York City. "We thought we could help reverse this trend."
Slafkosky and Kortman, who grew up in Rockford and Loves Park, believed they could demonstrate how you can redefine a city's center by creating an alternative retail environment with an urban touch. Their goal, says Kortman, was, and remains, "to bring merchandise and art not available anywhere else in the city, with taste and style."
Business might have taken off a lot faster had they opened Kortman's in a city like Chicago. But Chicago didn't need this, Kortman counters; Rockford did.
It's taken a generation but the city now seems to be catching on. Old buildings are being restored, offering unique housing, entertainment and retail spaces. Even the huge old Ziock building is slated for redevelopment - as a hotel.
Kortman and Slafkosky always knew it was possible. Call them patient. Call them persistent.
Call Rockford lucky to have them.
(Written by Geri Nikolai)