In Good Company- Duncan Geddes
Duncan Geddes
Photograph by Nels Akerlund Photography + Video
2014
LOCATION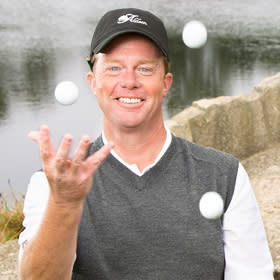 Northeast Family YMCA
8451 Orth Rd., Loves Park
Rockford has a passion for golf. Whether new to the game or an experienced player, junior golfer or lifelong enthusiast, the residents and visitors of the Rockford area enjoy a wide variety of places to play. Voted the best mid-sized city in the U.S. for public golf, Rockford has a long history with the great game of golf.
Few people know Rockford golf better than Duncan Geddes. A Rockfod native, Geddes has been a member of the PGA of America since 1990 and returned home as an assistant professional at Forest Hills Country Club after working at clubs in Chicago and Dallas. When he was hired as the head golf professional at Aldeen Golf Club in 1992, the Rockford area already boasted four park district courses, three private clubs and several other public and privately owned facilities. Aldeen Golf Club, however, was designed to be Rockford's premier public golf venue.
GOLF Magazine voted Aldeen Golf Club one of the top 50 courses in the U.S. with fees under $50 and the club has also been named the top municipal course in Illinois. Aldeen has consistently received 4.5 out of 5 stars by Golf Digest Magazine's Places to Play guide and it has also hosted four Illinois state amateur championships.
Now, as the Director of Golf for the Rockford Park District, Geddes oversees all five of its courses. "Golf has been a big part of the park district for over a hundred years," he says. "It's one of our community's greatest assets."
(Written by Paul Arco)