In Good Company- Emily Bear
Emily Bear
Photograph by Nels Akerlund Photography + Video
2013
LOCATION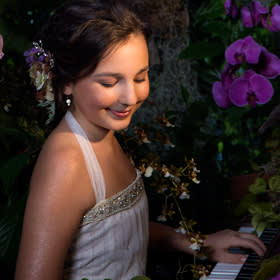 Rockford Memorial Hospital
2400 N Rockton Ave., Rockford
Emily Bear has had experiences and been to places that most of us can only imagine.
The Rockford resident is a pianist and composer who plays jazz, classical and her own compositions. By the time she was 3, she was composing music. Within a year, her mother, Andrea, was teaching her to play pieces by ear. Emily's recognized by both the jazz world and the classical world.
Emily hasn't forgotten her roots. She's donated her talent fee back to the RSO Youth Symphony and her performances have helped the Rockford Public Schools purchase equipment for the music department. "I love giving back," she says. "It makes me feel better that I can help people through my music. It's from my heart."
Emily has performed all over the world. She's played for heads of state, including President and Mrs. George Bush, when she was invited at age 6 to perform at The White House. She's recorded five albums of her own material. She's been interviewed by well-known journalists such as Diane Sawyer and Katie Couric, and has appeared and performed on The Ellen DeGeneres talk show six times. Emily's been covered by media outlets across the world including Germany, Australia, Italy and China.
"I don't know what I'll be doing when I get older, but it will definitely be in music," she says. "My dream is to do film scoring and to have orchestras perform my music."
As much as she's accomplished in her young life, Emily, in some sense, is just getting started. 
(Written by Paul Arco)