In Good Company- Henry C. Anderson, M.D.
Henry C. Anderson, M.D.
Photograph by Nels Akerlund Photography + Video
2013
LOCATION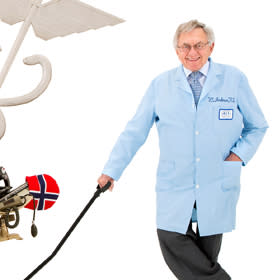 SwedishAmerican Hospital
1401 E State St., Rockford 
Throughout his long medical career, delivering quality medical care was always of the utmost importance to Dr. Henry C. Anderson.
Dr. Anderson spent 47 years caring for patients in the Rockford community. In 1955, he joined the medical staff at SwedishAmerican Hospital as a primary care physician. After 34 years of practicing medicine, he joined the administrative staff at the hospital, where he served as Vice President of Professional Affairs and Chief Quality Officer. He retired in 2002.
There were many highlights during his distinguished career. Dr. Anderson delivered over 2,000 babies. He developed and implemented the first Polio Prevention campaign for Rockford inoculating children by administering live polio vaccine. He also was a frequent national lecturer on quality care issues.
Under Anderson's leadership, SwedishAmerican Health System's quality initiatives have earned SwedishAmerican the designation as a Top 100 Hospital, the Lincoln Award for Excellence and named the winner of the National Quality Cup by USA Today. In 2002, SwedishAmerican created the Dr. Henry C. Anderson Quality Award, the highest honor conferred by the hospital, to honor individuals who have made significant contributions to improving healthcare quality.
"I love working with people," Dr. Anderson says. "I always felt like I was helping guide my patients through a morass of problems. But I was blessed to have wonderful teachers and mentors along the way."
(Written by Paul Arco)
Note: When visiting this exhibit, if you wish to take a photo, SwedishAmerican Hospital respectfully asks that you do not have any of our patients or visitors in the photo. Thank you!