In Good Company- Jack O'Neil
Jack O'Neil
Photograph by Nels Akerlund Photography + Video
2014
LOCATION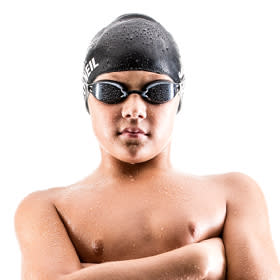 Rockford Memorial Hospital
2400 N Rockton Ave., Rockford 
At 11 years old, Jack O'Neil is the only child in the "In Good Company" exhibit. If you knew him, you'd know why.
Born with multiple birth defects, Jack has undergone many surgeries since his birth. About 18 months ago, when doctors proposed more operations that might - or might not - improve the use of his left leg, he said no.
That's right. Nine-year-old Jack said no. He'd rather have the leg amputated and get on with life with a prosthetic, he told his parents, Heidi and Jon O'Neil.
They respected his wishes. Since then, things have gone, well, rather swimmingly.
You see, Jack loves to swim.
"When I'm in the water, I feel free. I could swim forever and not get bored," says Jack.
He learned to swim at age 6 and started swimming in races a year later. But he never even placed.
Once he recovered from the amputation, he returned to competitive swimming and did great. He placed fourth at a regional swim meet with able-bodied kids and was the youngest swimmer to qualify for the CanAm Paralympics meet in Miami last March.
He does it with one leg, which only means he has to train a bit harder and be more creative, says Jack, a Spectrum School sixth-grade, straight-A student who thinks his life is better than most kids.
"I get to do amazing things," he says. "I go to different cities for swim meets, I've been to downhill skiing camp, water skiing camp, a triathlon camp ... I think I'm lucky."
(Written by Geri Nikolai) 
Note: When visiting this exhibit, if you wish to take a photo, Rockford Memorial Hospital respectfully asks that you do not have any of our patients or visitors in the photo. Thank you!