In Good Company- Jarrod Hennis & Britney Lindgren
Jarrod Hennis & Britney Lindgren
Photograph by Nels Akerlund Photography + Video
2014
LOCATION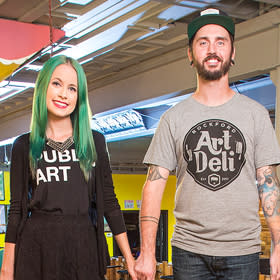 Lucha Cantina
1641 N Alpine Rd., Rockford 
Jarrod Hennis and Britney Lindgren followed their passions and the journey resulted in Rockford Art Deli, a custom design and printing business quirky enough to be included as a tour stop when a pack of North American travel journalists rolled through town in 2013.
"People who live in bigger cities come in and say they've never seen a place like this," says Lindgren, the graphic artist and business agent. "Go to any other screen printing shop and they're not going to let you watch them print or wander around the equipment."
Not to mention exhibit the work of visual artists or host nonalcoholic band performances that cater to the under-21 live music crowd. And their souvenir T-shirts that playfully promote Rockford area hot commodities.
Lindgren studied graphic design in college because combining interior design (her original plan) with a golf scholarship proved too difficult. "Golf was my passion, but it was also my job -- it put me through college."
Hennis, meanwhile, was working in information technology when on a lark he decided to experiment with screen printing. "It was trial and error," he says. "I messed up a lot of T-shirts." But soon he was holed up in the basement of his current downtown storefront creating apparel for bands he knew and sports teams he coached.
Lindgren and Hennis joined creative forces part-time in 2007. In 2010, the business went full-time as Pirate Ninja Print Shop on the building's second story when Lindgren left her day job. Hennis followed suit in 2012, and the Art Deli was born.
"We could have moved our business anywhere and succeeded a lot faster. But I was stubborn and wanted to succeed here," says Hennis. "We got sucked into all the complaining about Rockford at first and then we decided, 'Let's fix things instead.'"
(Written by Mark Bonne)