In Good Company- Jody Deery
Jody Deery
Photograph by Nels Akerlund Photography + Video
2012
LOCATION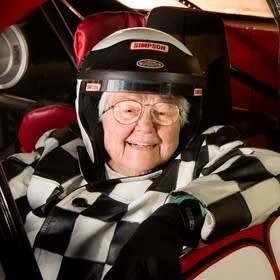 Olympic Tavern
2327 N Main St., Rockford 
Jody Deery always thought she'd spend a long career in nursing. She never expected to own a race track, that's for sure.
The 89-year-old is CEO of Deery, Co., which includes the Rockford Speedway and Forest Hills Lodge, which was built in 1978 on the property of the Speedway.
The Rockford Speedway is the only NASCAR sanctioned track in Illinois. It hosts weekly local-level events during the summer racing season as well as occasional regional- and national-level events. These days, the Speedway draws crowds of 2,000 on weekends and 500 on Wednesday evenings. It also hosts many popular races, some just silly fun, like the figure eight races and the "Faster Pastor" races that draw large church crowds.
Jody and her late husband, Hugh Deery, an insurance salesman, purchased a stake in the track in 1959, and by the mid 1960s became its sole owners. "We had no experience in promoting races whatsoever," says Jody, who left nursing to help Hugh with his insurance business. "I had never even been to a race."
These days, the Deery family is one of the best known and successful family names in short track racing. All eight of the Deerys' children worked on their "family farm," and many of them made their own motorsports careers away from Rockford.
When Hugh died unexpectedly of a heart attack in 1984, Jody decided to forge on with the help of her family. She has carved out a name for herself in racing; in fact, Jody is just one of two women in the country who serves as a voting member of the NASCAR Hall of Fame.
One day Jody will hand over the keys to the family business to her children. But not yet. "I still enjoy coming to work," she says. "Besides, what else do I have to do?"
(Written by Paul Arco)