In Good Company-  Mary Gulbrantson
Mary Gulbrantson
Photograph by Nels Akerlund Photography + Video
2014
LOCATION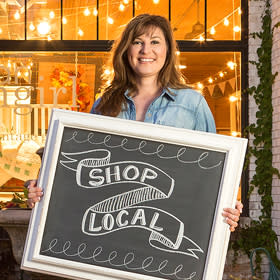 Mary's Market - Perryville Rd.
2636 McFarland Rd., Rockford 
The Urban Farmgirl shop at 2202 Rural St. in Rockford not only describes its owner, Mary Gulbrantson, an urban farm girl, but reflects her life.
Mary grew up near Stillman Valley, "on a little farm with a beautiful white barn and a big farmhouse I miss every day of my life," she says. The youngest of eight children, she learned to be self-sufficient, creative and motivated, spending her free time refinishing furniture and making things from salvaged bits and scraps she found in the barns.
During college, she combined that talent with experience working at a department store. Then she knew she had what it takes to run a shop of her own.
It's about more than making a living for Mary.
"Home is such an important part of our lives, and to know that I create things that make people happy within their homes - that is all the motivation I need," she says.
Mary's take on our future, and that of her shop, its neighborhood and the city, is one of optimism.
"What most impresses me about Rockford is how the people are purposefully working toward spreading positivity about our great city, whether it be through locally-made products or supporting a locally-owned shop or restaurant," she says.
"I vow to do my part to contribute not only to our city as a whole but specifically to the Rural Oaks neighborhood my shop calls home," she promises. "I will do everything I can to attract visitors, shoppers and prospective business owners to the area, and show them they, too, can be successful in our little corner of the world."
(Written by Geri Nikolai)