In Good Company- Mary McNamara Bernsten
Mary McNamara Bernsten
Photograph by Nels Akerlund Photography + Video
2012
LOCATION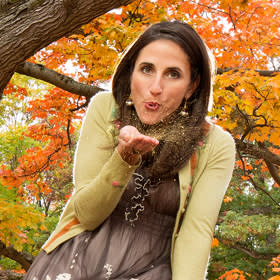 Northeast Family YMCA
8451 Orth Rd., Loves Park 
When she isn't busy raising her own four boys, she's out preserving the environment or introducing other children to the joy of art. In whatever she does, for Mary McNamara Bernsten, it's always a family affair.
John McNamara, Mary's father, served as Rockford mayor during most of the 1980s, taking office as the city's unemployment led the nation with one in four out of work. Mary remembers nightly dinner conversations about the challenges facing the community and the expectation that all six McNamara kids would embrace civic duty as adults.
In 2010, the Winnebago County Board established a separate Forest Preserve Commission and 35 candidates ran for seven seats. Mary finished first after a vigorous campaign (one letter writer called her a modern-day Lorax) run by her brother, Tom. When controversy led the commission to remove its president mid-term, Mary filled the leadership role on an interim basis.
"That was a big adult moment for me - to stand up for what's right and say, 'I don't like where this is going.' I had the opportunity to be the person I thought I was."
Mary involves her children in her home business, featuring their artwork on apparel, bags and sketchbooks. The business, under the name "4hooligans: Inspired by kids, created by Mom," sells locally and online. Since 2008, Mary and her sister, Kate McNamara Bourbeau, have teamed with their mother, Barbara, to run the I HEART ART Summer Art Camp. The program is now expanding its reach with group art classes during the school year at Mendelssohn Performing Arts Center.
"My mother and sister and I love spending time together and turning kids on to art, I definitely enjoy my life, and I'm sincerely grateful for the opportunities I've been given."
(Written by Mark Bonne)