In Good Company- Daniel McMahon & Miles Nielsen
Daniel McMahon & Miles Nielsen
Photograph by Nels Akerlund Photography + Video
2013
LOCATION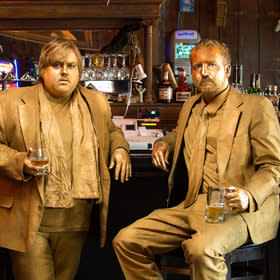 Kegel's Bike Shop
2605 Charles St., Rockford 
"Choose a job you love," said the wise Confucious, "and you will never have to work a day in your life."
Consciously or not, two young Rockford musicians have paid heed to these ancient words of wisdom.
Dan McMahon and Miles Nielsen are immersed in the music business. Along with others, they own The Midwest Sound, a recording business in Rockford which does all kinds of work, from recording artists like Cheap Trick, Derek Luttrell, Hilly Jones and metal bands to film scoring. They have been in bands for decades, currently with the ever-more-popular Miles Nielsen and the Rusted Hearts. Their music, which Nielsen describes as "Pop Americana," is all original. They'll play in Spain and Italy next year.
The two of them mingled with the Oscar crowd after they composed original music for the documentary film, "Undefeated," which won the Academy Award for Best Documentary Feature in 2012.
Both were raised in Rockford and use this city as their home base, a place where family and friends await after traveling the world to make music. Rockford, they say, is a good place to get new ideas.
"Any place can be boring but I have friends here who are definitely not boring," says Nielsen.
McMahon says he is "regularly impressed with the creative stimulus that Rockford has to offer. There is never a lack of bizarre circumstances unfolding. Anything could happen at any time."
As for never working a day in their lives, they would disagree. The music business can be grinding.
"I travel all the time," says Nielsen. "I say that I drive for a living and play music as a hobby."
Neither would change it.
"I quit college after one semester to play in a touring band," McMahon recalls. "Maybe one of the best decisions I've ever made."
(Written by Geri Nikolai)