In Good Company- Michael Roh, M.D.
Michael Roh, M.D.
Photograph by Nels Akerlund Photography + Video
2013
LOCATION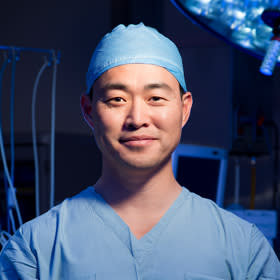 Rockford Public Library - Downtown Branch
215 N Wyman Rd., Rockford 
Michael Roh, M.D. is proof that local folks don't have to go far for quality health care.
Roh is co-founder of Rockford Spine Center, where he and his partners are fellowship trained spine surgeons who perform several hundred spinal surgeries a year. In fact, Roh and company have come up with several advanced treatments that have helped RSC earn a national reputation.
"As a physician, I've been impressed with the caring nature of the people, and the strong families, friends, and support networks that tie this community together," he says. "I can't emphasize enough how crucial these factors may be in the care and recovery of a patient."
Roh is an expert in cervical spine surgery and minimally invasive surgery. He's traveled the country teaching other surgeons and speaking on deformity surgery and advanced minimally-invasive techniques.
"I love seeing my patients feel better after spine surgery," he says. "Often, the pain relief is immediate, particularly with the many minimally-invasive surgeries that I do. So many of my patients just can't believe how good they feel and how quickly they recover, which for me is the best reward."
And so is giving back to the community. For nearly a decade, Roh has provided charitable orthopedic care to the Walter Lawson Children's Home. "In an era when the rules and restrictions of health care are quickly evolving, it's helpful to donate one's time to those in need, in order to get back to the basics of why I went into medicine," he says. "Taking care of those kids reminds me quickly of all for which I should be thankful."
(Written by Paul Arco)