In Good Company- Michael Webb
Michael Web
Photograph by Nels Akerlund Photography + Video
2014
LOCATION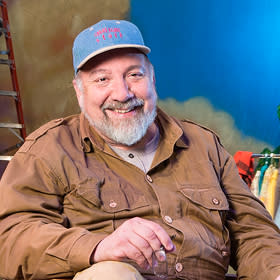 Local Dough
202 W Main St., Rockton
For Mike Webb, life is all about making special moments.

For the past 30 years, Webb has been making plenty of special moments as the only producer and director of Rock Valley College's Starlight Theatre. 

Webb refers to his plays as cultural mileposts--events that have high impact on their audiences. Webb calls Hamlet "the most beautiful thing we've done." Other memorable plays include Children of Eden, a two-act musical play by Stephen Schwartz, based on the Book of Genesis; Titus Andronicus, Shakespeare's first tragedy; and Phamtom of the Opera, which opened Starlight's 45th season. Webb fulfilled a longtime dream to direct the complete works of Shakespeare. He directed all 36 plays in the original collection, called the First Folio, over a span of 22 years.

And then there are the actors, stagehands, and other volunteers behind the scenes. Webb has worked with hundreds of them, including some who've enjoyed national stardom, like Stephen Wargo, Jodi Benson, Joe Coots, Joe Mantello and Dean McNaughton.

To Webb, theater offers the audience an escape rarely matched by other art forms. "The best thing about theater is that it's live," he says. "It's organic. You take your seat, the lights go down, the actors come out, and you're willing to go with whatever they do, as long as they fulfill the promise. It gives you things that you can hold on to."
(Written by Paul Arco)