In Good Company- Phantom Regiment
Phantom Regiment
Photograph by Nels Akerlund Photography + Video
2014
LOCATION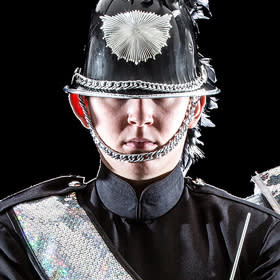 Rockford Art Deli
402 E State St., Rockford 
When it comes to world-class performers, Rockford has some of the best in the Phantom Regiment, a competitive junior drum and bugle corps that has been around for nearly 60 years.

"What we bring to the community is a different type of art and music in regards to what we do on a football field," says Rick Valenzuela, executive director. "These are the best young people who come from all over the world to compete here in Rockford."

Each year, the odyssey begins with Phantom Regiment tryouts in December. More than 600 hopefuls converge in Rockford from all corners of the world, including Taiwan, Japan, the Netherlands, and the United Kingdom, as well as many U.S. states, hoping to be chosen as one of the 150 members.

Members of the corps range in age from 16 to 21. They spend 24 hours a day practicing, performing and traveling. "We're providing life-changing moments," says Valenzuela. "The commitment is not easy and not made for everyone. They learn a work ethic they don't get anywhere else."

The Phantom Regiment performs more than 30 times each summer. They play in front of audiences 1,500 to 20,000-plus in size, in a variety of venues, from Rockford's Sinnissippi Music Shell to massive NFL stadiums like Lucas Oil Stadium in Indianapolis.

The Regiment has won two national championships, and has been a top seven finalist for several years in a row. "The Phantom Regiment is one of the world powerhouses in our activity," says Valenzuela. "It may seem easy getting to that point, but the hard part is staying a perennial powerhouse."
(Written by Paul Arco)