In Good Company- Rick Nielsen
Rick Nielsen
Photograph by Nels Akerlund Photography + Video
2012
LOCATION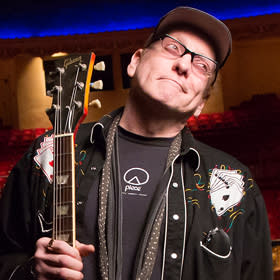 Stockholm Inn
2420 Charles St., Rockford 
When Rockford's very own Cheap Trick formed more than 38 years ago, the band had one goal.

"We wanted to play music that we liked and that was cool," says band co-founder Rick Nielsen. "We wrote, rehearsed and tried to play as much as possible."

In 1972, Nielsen, the charismatic lead guitarist known for his black and white checkerboard motif and five-neck guitar, founded Cheap Trick, a multi-platinum band that has performed for throngs of fans across the world and sold more than 20 million albums, cranking out one catchy hit after another, including "Surrender," "I Want You to Want Me" and "Dream Police."

Known for his musical prowess, Nielsen also is an avid collector of all things. Nielsen boasts a guitar collection that's grown to more than 2,000 - from a Les Paul, a Fender, Hamer, along with 100 or so custom-made guitars. "I appreciate guitars for what they are," he says. "They are works of art."

Two years ago, Nielsen and the Burpee Museum of Natural History unveiled plans for Rick's Picks, an exhibit that depicts the story of his passion for guitars, music and rock & roll. Visitors from all over flocked to the Rockford museum to catch a glimpse of Nielsen's array of guitars, personal items, clothing and Cheap Trick memorabilia.

It's fitting that Nielsen opened his memory vault right here in Rockford. He could have chosen to live anywhere throughout his storied career, but has always remained loyal to his roots.

"I like it here," he says. "If you can make it in Rockford, you can make it anywhere. Rockford is where our families are. We made a decision to raise our family here. All my kids went to the same school that I did. How crazy is that?"
(Written by Paul Arco)