In Good Company- Scott A. Williams
Scott A. Williams
Photograph by Nels Akerlund Photography + Video
2012
LOCATION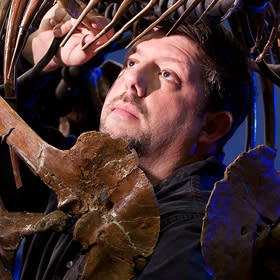 Rockford Public Library - East Branch
6685 E State St., Rockford 
Scott Williams liked the Burpee Museum of Natural History long before it had dinosaurs. As a child, Williams collected fossils near his home in rural Stillman Valley, then took them to Burpee for help identifying them.
Williams loved natural history, geology and paleontology. By age 13, he was volunteering at Burpee as a tour guide and caretaker of a live reptile exhibit.
His interests stayed with him as he worked as a corrections officer and sheriff's deputy in Ogle County. He returned to Burpee as a volunteer in 2000 and, in 2003, the museum put him on staff. Today he is director of science and exhibits, in charge of the lab, collections, fieldwork and exhibits.
Williams was all for Burpee's foray into paleontology and helped organize the museum's field programs in which volunteers go out West to dig for dinosaur bones. Those trips have led to two amazing discoveries which have put Burpee in the forefront of paleontology - the world's most complete and best-preserved juvenile Tyrannosaurus rex, named Jane, and a sub-adult Triceratops named Homer.
Williams loves sharing his dinosaur knowledge with kids. "Paleontology is an excellent primer that excites children to become interested in science and the scientific method," he says. The annual Paleofest, organized by Williams and held at Burpee each spring, puts kids in close contact with dinosaur experts from around the world.
Williams' dinosaur searches go on. Who knows, someday Jane and Homer may be joined by a Stegosaurus named Scott.
(Written by Geri Nikolai)