In Good Company- Sunil Puri
Sunil Puri
Photograph by Nels Akerlund Photography + Video
2012
LOCATION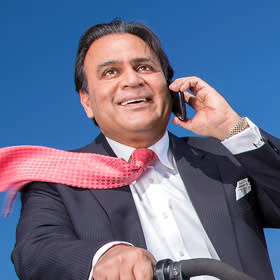 Octane
124 N Main St., Rockford
Born in Bombay, India, the sixth of six boys, Sunil Puri came to the United States in 1979 to attend Rockford College. He paid his tuition and rent by working in campus security, the library and a nursing home, and he earned an accounting degree in 1982.
In the 32 years since he graduated, Puri, a securities trader turned real estate developer, has done more to change the landscape of the Rockford area than probably any other individual. That success is manifest in Puri's crowning achievement, the newly dedicated Puri Business School, created in his honor by his alma mater.
His commercial and residential projects are too numerous to list, but Puri is responsible for much of the corridor growth along Perryville Road and Illinois 173. Public and nonprofit projects including Sportscore Two, the YWCA, WomanSpace and Coronado Performing Arts Center restoration have also prospered from millions of dollars Puri has contributed.
One of Puri's most significant philanthropic endeavors is the Keeling-Puri Peace Plaza, a 2.5-acre oasis dedicated to international peace. The Harmony Atlas sculpture and flags from nations around the world stand majestically along Perryville Path, a 15-mile paved recreational trail that sprouted from a grassroots effort lead by Puri; its construction inspired a system of interconnected trails throughout Winnebago County.
Puri is also politically active. Unlike many of his socioeconomic peers, however, he mostly supports Democrats. He has accompanied Presidents Clinton and Obama on Presidential visits to India. For five years until June 2014, he served on Obama's Presidential Commission for Asian Americans and Pacific Islanders.
"Making money and having compassion are not mutually exclusive," says Puri of his political leanings.
More than that, however, Puri emphasizes the importance of connecting local political and business interests to the outside world if Rockford is to prosper.
"We need to be aggressive in selling ourselves," he says. "Gone are the glory days when we were the industrial power source."
(Written by Mark Bonne)