In Good Company- Tim Grunder
Tim Gruner
Photograph by Nels Akerlund Photography + Video
2010
LOCATION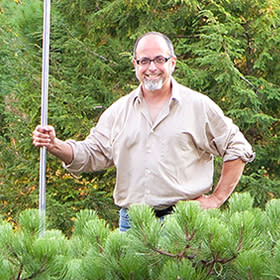 Rockford Roasting Co.
206 N Main St., Rockford 
Tim Gruner recalls two moments that propelled him toward his dream job as garden curator and head of horticulture at Anderson Japanese Gardens.
He learned to love nature as a young boy, when his dad would take him, his sisters, and their dog to the Willow Creek area of Rock Cut State Park.
At about age 5, Gruner says, "I remember crouching down by the stream and looking through the rippled water flowing past at the beautiful clean pebbles on the creek floor ... that memory is strong with me to this day."
In his early 20s, he backpacked in the Smokey Mountains of North Carolina with a buddy and experienced old growth forest in a mountain setting.
"In that ancient forest, I felt a sense of clarity for the first time in my youth," he recalls. "At that point, I knew that I needed to work with plants for a living."
Having made that decision, Gruner enrolled in Kishwaukee College's horticulture program and, on a class trip, visited Anderson Gardens. In his own words, he was "hooked" and still is.
This has remained a perfect fit for me for 25 years," he says of his role there. "The gardens are a great combination of art, nature, culture and science, and I love all those things."
(Written by Geri Nikolai)