In Good Company- Timothy Hanson
Timothy Hanson
Photograph by Nels Akerlund Photography + Video
2014
LOCATION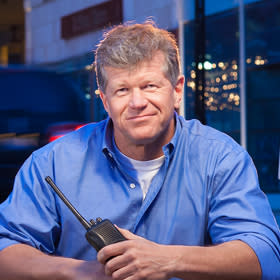 Rockford Public Library - Montague Branch
1238 S Winnebago St. 
As Director of Public Works for the City of Rockford, Tim Hanson knows this town inside and out.
"It's a beautiful, older city with lots of history," he says. "What I enjoy the most are the people. Everyone wants the best for themselves and for Rockford. I enjoy being in that type of environment."
And he's encouraged about Rockford's future. "There's a lot going on, especially downtown," he says. "You're going to see a renaissance from an old manufacturing town to a new Rockford, thanks to things like the Rockford City Market, Prairie Street Brewhouse, Amerock project, and Amtrak. One day, we're going to wake up to a river walk. It's exciting to see things happening in bits and pieces."
Hanson enjoyed a solid 30-year career with United Parcel Service. He could have retired, but it wasn't in the cards for the Waukegan, IL native who moved to Rockford in 1998 to oversee UPS's air facility. "I knew I wasn't ready to quit working," he says. "After going 70 miles per hour in fifth gear, it's hard to just stop."
Instead of playing golf every day, Hanson pursued an opportunity with the City of Rockford. In 2007, Hanson was hired as director of Public Works and is responsible for a $45 million budget, 155 employees and three divisions that include streets, water, trees, and traffic.
It was an adjustment for Hanson, but his prior experience at UPS trained him well. "I've had many different jobs over the years that were out of my comfort zone," he says. "In the past eight years, I've found that public works is something I can really sink my teeth into. I've worked with the best crew, and the community has been very supportive of the work we do. I'm fortunate to do what I do every day."
(Written by Paul Arco)