In Good Company- Zina Horton
Zina Horton
Photograph by Nels Akerlund Photography + Video
2014
LOCATION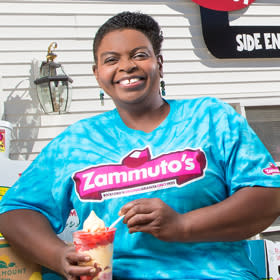 Rockford Public Library - East Branch
6685 E State St., Rockford
As far back as when she was a student, Zina Horton told classmates that she would one day own a restaurant.
Throughout her career, food was never far from her mind, even when she drove a school bus, worked as a recreation coordinator and as a certified nursing assistant.
"My passion is cooking, period," says Horton. "Food is wonderful. It can alter your mood and it can be a comfort to you. It's a celebration that brings families together."
The Rockford native brings that enthusiasm every day to the two businesses she owns with her daughter, Alida. They operate Zammuto's Drive-In and Carry Out and Sweet Ambrosia Desserts & Catering.
Zammuto's is best known for granita, a semifrozen treat similar to Italian ice or sorbet available in nine flavors, including lemon and blue raspberry. The tasty treat draws people from miles, especially on a hot summer day.
Zammuto's secret granita recipe originated in Sicily and was handed down for several years before Horton took over the business.
"I love being a locally-owned business," says Horton, whose granitas are also a big hit at Rockford City Market and Tuesday Evenings in the Gardens at Anderson Japanese Gardens. "I take great pride in doing what I do."
Horton is a hands on owner, waiting on customers, as well as helping out in the kitchen. Horton and her staff have become close to many long-time customers, some who stop in a couple times a day.
"We already know what they want before they walk through the door," Horton says, "My son said it best: everything is cooked with Love."
(Written by Paul Arco)