Reflecting A Summer in Photos: RACVB intern captured the beauty of Rockford this past summer -- from festivals and concerts to business portraits and everyday life.
Hello everyone!

I cannot believe this is the final blog I get to write as a staff intern/photographer at the Rockford Area Convention & Visitors Bureau. This summer went by faster than I could have ever guessed, and I have to say it has been an unforgettable experience. 
I have spent the last 3 months on multiple assignments capturing the variety of people and events in the Rockford and Winnebago County. I have made several photo blogs this summer, talking about what I may have been focusing on or trying to improve as a photographer. But there's one thing that was missing, the "why." Why were these my favorite photos, or what made them special? So, in this blog I have put together 15 of my favorite photos from this summer. I'll include the technical information, and some background of sorts.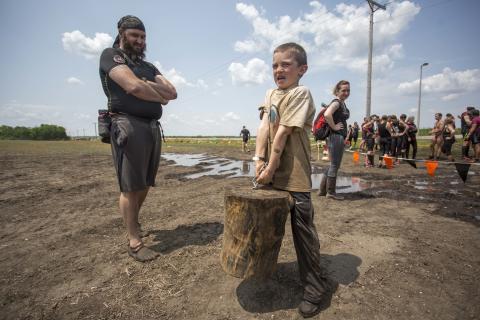 Tech Info: Canon 5D Mark III & Canon 17-40 | Shutter - 1/1250 | Aperture - F4.5 | ISO - 125
A boy lifts up a log that his father carried while participating in Tough Mudder at the Chicago/Rockford International Airport, Saturday, May, 21, 2016.
If you made a pie chart of my job, a large chunk of it would be taking photos, of course. Another part would be photo processing, but most people wouldn't guess another large part is waiting.  I'm perfectly fine with waiting; it gives me time to think about certain compositions and to explore. I couldn't even tell you how many times that while waiting I've just been in the right place at the right time. Really interesting things just sometimes happen by coincidence. This photo is a perfect example of being at the right place at the right time. I was waiting for the next group of athletes to come by and the man in the photo had carried this large log throughout the entire course. He had stopped to talk to his family, and then his son tried to pick it up.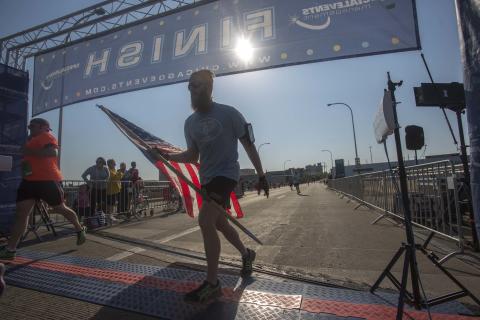 Tech Info: Canon 5D Mark III & Canon 17-40 | Shutter - 1/1000 | Aperture - F8 | ISO - 400
A participant of the annual Rockford Marathon crosses the finish line while holding an American flag, Sunday, May 22, 2016. 
I am willing to admit that I have a few obsessions when I do photography -- panoramas, long exposures and interesting light. (I'm pretty sure every photographer has an obsession with interesting light.)  I picked this photo because of it's very "contrasty" light, along with how grand and dramatic it comes off.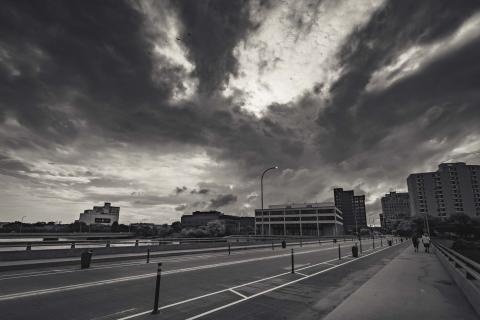 Tech Info: Canon 5D Mark III & Canon 17-40 | Shutter - 1/200 | Aperture - F11 | ISO - 100
Storm clouds roll through Downtown Rockford, Friday, May 27, 2016. 
I have probably taken at least 500 photos from this bridge this summer, but out of all of them I picked a black and white landscape of storm clouds. Summers give the most interesting skies in the Midwest, and sometimes the least predictable. For example, in the photo above I remember the sky was overcast all day with nothing on the horizon.Then out of nowhere there were these super dramatic storm clouds just rolling through.
Tech Info: Canon 70D & Canon 70-200 | Shutter - 1/1250 | Aperture - F4 | ISO - 125
The annual Memorial Day parade travels down E. State Street in Downtown Rockford, Sunday, May 30, 2016. 
Parking decks, are a photographers best friend, especially extremely accessible ones, because unless they are connected/owned by a hotel/business they are owned by the city and (usually) public. As long as you aren't doing anything wrong, you shouldn't have any problems. They are also nice for getting an overview of an event instead of getting only ground level shots.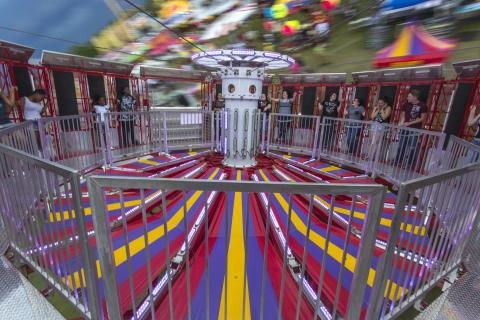 Tech Info: Canon 5D Mark III & Canon 17-40 | Shutter - 1/50 | Aperture - F8 | ISO - 100
Festival-goers fight the force of gravity on the "zero-gravity" during the annual Young at Heart festival in Loves Park, Illinois, Saturday, May 28, 2016. 
Let me start off by saying, if you look like you know what you are doing, and have a very large and expensive camera with you, people will let you do just about anything. That being said, I went to this festival knowing I wanted to take this image. So, after getting my "safe" images (ones that I could turn in that are pretty generic festival photos) I asked the ride operator if it were alright to go on the ride to get the image seen above. He had no problem with the idea. The only thing was I had no idea what my shutter speed should be to have the riders in focus while having the background show motion. I'm not going to get extremely technical, but I messed around with the shutter speed the entire ride, attempting to check the images on the LCD screen every now and again to see how my focus was. I think I took around 170 photos and the one above is the one that was chosen.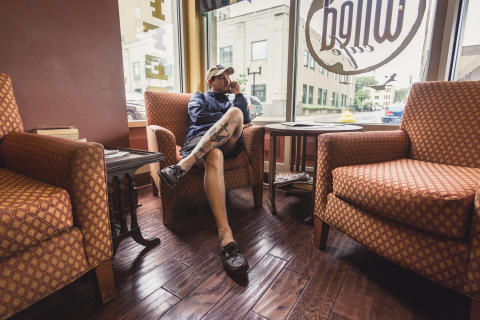 Tech Info: Canon 5D Mark III & Canon 17-40 | Shutter - 1/80 | Aperture - F4.5 | ISO - 800
Garrett Rapp, of The Color Morale, is photographed in Wired Cafe, in Downtown Rockford, Tuesday, May 31, 2016. 
The reasoning for this photo is a bit different than all the others as this one didn't have any planning behind it  or have some ridiculous setup. I personally enjoy it due to its simplicity.  I had gained the opportunity to interview Garrett about what he likes about his hometown, and his stories from when the band was first starting in the area.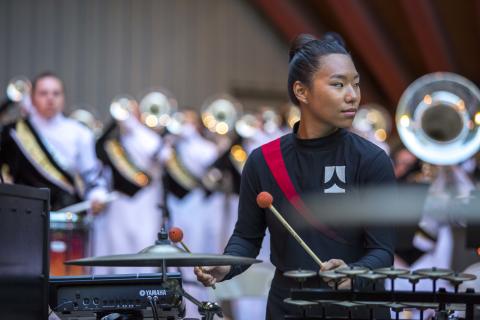 Tech Info: Canon 5D Mark III & Canon 70-200 | Shutter - 1/800 | Aperture - F3.5 | ISO - 800
Local Drum and Bugle group The Phantom Regiment performs at The Sinnissippi Park Bandshell for the Music In The Park series, Tuesday, June 7, 2016. 
This was my second time covering the Phantom Regiment, I covered them the previous year during the Show of Shows at Boylan High School. The regiment always draws a huge crowd, especially at the Sinnissippi Bandshell (an amazing venue to get some leg exercise). I picked this image because out of such a high paced show, there's this moment where it looks relaxed. 

Tech Info: Canon 5D Mark III & Canon 17-40 | Shutter - 1/400 | Aperture - F8 | ISO - 100 | 2 photos merged in Adobe Lightroom for panorama.
Downtown Rockford viewed from Jefferson Street Bridge. 
Oh man, the people that follow me on any social media probably know, I like panoramas ... a lot (even though they are a pain to print/frame). It's just a very unique and grand way to show landscapes/cityscapes or interior buildings. As any landscape/cityscape photographer would know, mid-day light is just awful, it is the worst, it's flat, it's boring it's just there. Well, this is "sorta" mid-day, it's around 10am when the light is still okay, it's still a little soft so it isn't as harsh and it has some contrast. It's probably one of the few landscape/cityscape images I have taken that has not been at or near sunrise, sunset or at night that came out right.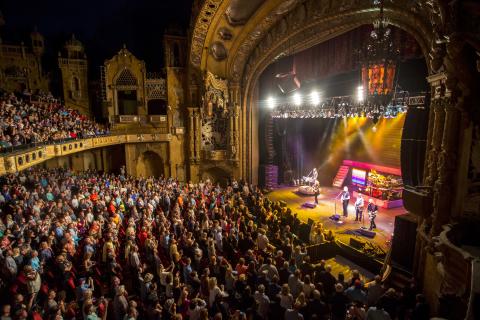 Tech Info: Canon 5D Mark III & Canon 17-40 | Shutter - 1/80 | Aperture - F4 | ISO- 8000
Rock band, Styx, plays to a nearly sold out crowd at the Coronado Performing Arts Center, Tuesday, June 21, 2016. 
Concert photography (oh boy!) is a very rushed 10-20 minutes because that's all you get. Unless you are with a very large publication/media group or with the band, you only get to shoot the first three songs. There are some bands that will only let you do two songs, and then there's the groups/performers that will only let you do one song (I'm looking at you Taylor Swift). I'm not 100 percent certain as to why this rule is still common practice. The usual excuse is that "the photographers are distracting." Well, how about the group of people at concerts that hold up their phone the entire time recording/taking photos? For the avid concert goer you know that feeling of being stuck behind one of them the whole time. This was my first time covering a show at the Coronado Performing Arts Center, and it was definitely a very exhilarating time (especially having to bolt up the stairs to the balcony to get the wide shots).  Styx had front-facing lighting towards the crowd which made getting the shot like the one above much easier.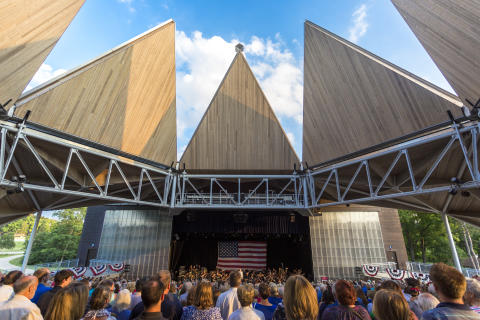 Tech Info: Canon 5D Mark III & Canon 17-40 | Shutter - 1/500 | Aperture - F5.6 | ISO - 400
Audience members stand during the national anthem during the annual Rockford Symphony Orchestra Independence Day Spectacular, at Starlight Theatre at Rock Valley College, Sunday, July 3, 2016. 
Perfection is boring, like man, is it boring. As anyone could tell, the image above is not perfect in symmetry; it's close but not perfect. I personally believe the extra space let's your eye travel a bit more and see a bit more. This was surprisingly my first time covering anything at the Starlight Theatre. The annual Rockford Symphony Orchestra show on July 3 seemed like a summoning ritual for Uncle Sam himself, but he was a no show.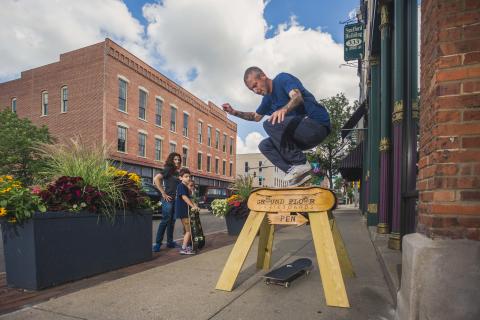 Tech Info: Canon 5D Mark III & Canon 17-40 | Shutter - 1/1000 | Aperture - F8 | Off camera flash behind camera right at full power. 
Owners of Ground Floor Skateboards, Eric Neubauer & Wife Alicia and family are photographed in Downtown Rockford, Monday, July 11, 2016. 
Oh wow, something new! I threw an off camera flash in there for once. It was used for fill on Eric while he jumped over his sign and to separate him a bit more from the background. Before my internship here, I rarely did things like this photo that took numerous times to get right, while using off camera flash, and working with a bunch of other elements in the environment. It's sort of relaxing and reminds me of landscape photography in that sense that you plan out the shot, the location, set up a bunch of stuff and keep messing with things until it's practically perfect.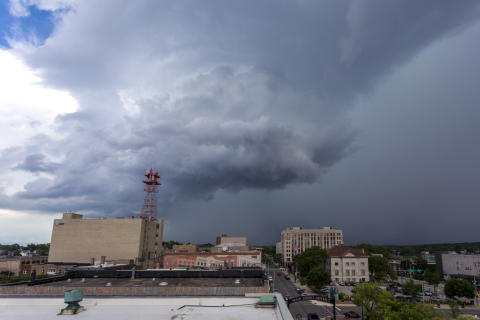 Tech Info: Canon 5D Mark III & Canon 17-40 | Shutter - 1/100 | Aperture - F11 | ISO - 50 | Circular Polarizer 
The beginning of a funnel cloud forms over Downtown Rockford, Thursday, July 28, 2016. 
Starting as a landscape photographer, I am always over prepared, which at the same time means I'm prepared for any situation. While I don't carry as much gear as I used to, I still keep a few filters in my bag just in case. In short, a circular polarizer is a filter you can rotate and one half of it has the same effect as polarized sunglasses. I usually use it to punch through water, or in this case, to bring out the clouds a bit more. On that note, this summer I had a few photo goals of sorts, one of them being was to get lightning in Downtown Rockford. While that did not happen, I did get this image of the start of a funnel cloud.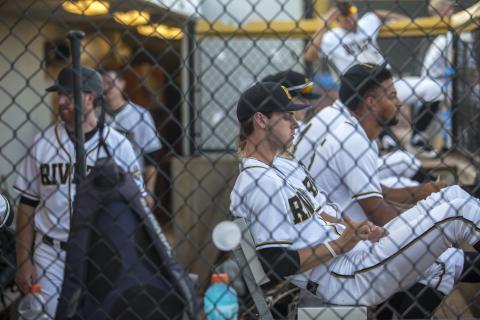 Tech Info: Canon 5D Mark III & Canon 70-200 | Shutter - 1/1000 | Aperture F2.8 | ISO - 2000
Rockford Rivets members wait in the dugout during the last home game of the season at Rivets Stadium, Wednesday, August 10, 2016. 
I'm pretty sure if any photographers I knew read that technical information they would probably ask me why I kept my shutter speed so high, instead of lowering it. Often while covering events you don't really move your settings around unless you need to. So with that being said, I was standing on the side of the dugout and saw this moment. While I know for sure this photo took a few moments to execute because of trying to auto focus through that fence, I didn't take into account what my settings were. Along with that, some of my favorite images of sports are usually not of the action going on, but more of the intimate moments between players, or the crowd, because action shots are so standard that anyone could do them.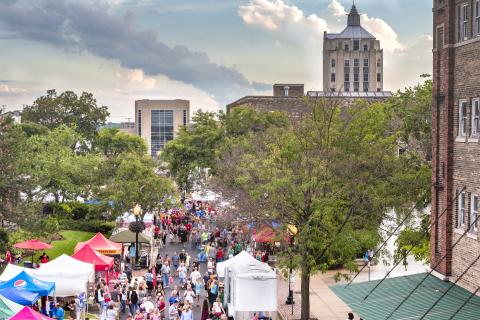 Tech Info: Canon 5D Mark III & Canon 17-40 | Shutter - 1/400 | Aperture F8 | ISO - 100
Rockford City Market seen from Jefferson Street Bridge, Friday, August 19, 2016. 
This blog would not reflect my time here this summer without at least one photo of the Rockford City Market. I have personally been to 11 of them this summer, and my favorite photo from all of them is this one. The reason I chose this one out of the hundreds I took is that it feels complete. I've been wanting to take this photo all summer. I tried it once and it didn't work for various reasons. After that I kept putting it off until the last market I covered and everything just sort of fell into place.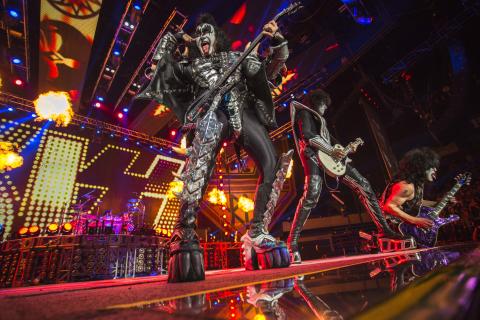 Tech Info: Canon 5D Mark III & Canon 17-40 | Shutter - 1/500 | Aperture F4 | ISO - 1250
Rock band KISS performs at the BMO Harris Bank Center for their Freedom To Rock Tour in Downtown Rockford, Saturday, August 20, 2016. 
Kiss was definitely an interesting band to cover. I don't think I have ever seen a band with such a large stage production (or enough pyro to rival some small town Independence Day shows). This show also came with some difficulty to shoot as well. When entering the photo pit all 15 photographers, including myself, were surprised to see a bit over 7 foot tall stage, along with that being so close to the stage doesn't help with perspective at all. So one of the solutions was to hold the camera up in the air and shoot sorta blind. I say "sorta" because after shooting for so long with certain lenses you can visualize what the framing looks like at certain focal lengths. 
It's been a great summer, and I hope all the photos above reflects just a small fraction of what goes on during the Summer in the Rockford area and Winnebago County. I'd like to thank everyone at the RACVB for helping me get photos and experiences that I wouldn't have been able to without them.