April is National Poetry Month. Launched in 1996 by the Academy of American Poets, this monthlong celebration of the written and spoken word provides an opportunity to pause and meditate on poetry's place in our lives.
As Poet Laureate of Rockford, it is my honor to create—in collaboration with community partners—opportunities for our community to engage with the world of poetry.
This month, Rockford community members and visitors alike have a slate of dynamic, poetry-themed events to peruse. I encourage anyone spending time in Rockford during the month of April to attend a reading, a discussion group, a performance, or an exhibit, that celebrates the rich history of poetry, and the many wonderful living poets in our midst today.
Below, I've curated a list of some poetry-themed events happening during National Poetry Month. Whether you are a lifelong reader of poetry, a writer, or someone looking to dip their toes into poetry's vast waters for the first time, Rockford provides.
1. Join Rockford's newest independent bookstore Maze Books for an evening of (hopefully) really bad poetry. Maze Books's Dave Pederson presents "Worst Poetry Ever," a bad poetry contest wherein 15 writers, authors, and poets will present and perform their original "worst" poems live from 7-9pm at Veterans Memorial Hall.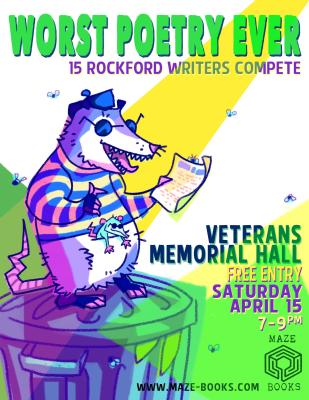 2. The Rockford Public Library will be providing 4 Poetry Performance Workshops called, "Ode to National Poetry Month" Poetry Teas, where attendees will be welcomed to RPL's Black Box Theater on the lower level of the RPL Nordlof Center, to perform-- open mic style-- a poem (original or selected) that they enjoy. The group will discuss the pieces and Library Staff will give pointers on engaging listeners in the delivery of some favorite poems. All meetings will take place in the Nordlof Center Black Box Theater. 4/3 (7-7:30pm); 4/8 (10am-11:30am); 4/11 (6-7:30pm); 4/19 (10-11:30am).
3. On Friday, April 21st, the Nordlof Center Black Box Theater will be transformed into the RPL Café Beatnik Coffee House where City of Rockford Poet Laureate, Jenna Goldsmith will share some of her poetry and host 6 other artists in performing their poetry and spoken word.
4. On Thursday evening, April 27th, Poet Laureate Jenna Goldsmith will be back at the RPL Nordlof Center, this time in the JR Sullivan Theater, as part of an author event with RPL Archivist and Librarian Doug Janicke. Goldsmith will share about her experiences as a poet and read some of the work featured in her books available in the RPL collection. A Q&A and book signing will follow.
5. Rockford Symphony Orchestra Concertmaster Michéle Lekas has programmed a concert to be performed on April 12th at the Rockford Art Museum. The program will feature Ralph Vaughan Williams's "Lark Ascending," a poem of 122 lines by the English composer George Meredith about the song of the skylark. The poem inspired the English composer Vaughan Williams to write a musical work of the same name, which is now more widely known than the poem. Performances are at 5:30 and 7:30pm.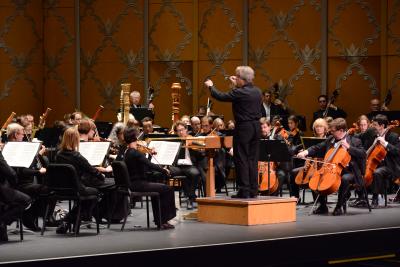 6. An array of books by living Illinois poets will be on display at the Nordlof Center for the entire month of April. The RPL Nordlof Center is located at 118 N. Main Street downtown Rockford.