Just because the summer is over doesn't mean paddling has to be! In fact, the fall might just be the most beautiful time to kayak. There is nothing like sitting in your kayak and looking up to find yourself surrounded by one of nature's most beautiful gifts: the orange, yellow, and red of fall leaves. Whether you're looking for a new way to appreciate the autumn colors or just looking for a new adventure, Rocktown Adventures offers a variety of options to head out this fall, regardless of skill level!
If you've never paddled before:
Rent a Kayak on Pierce Lake at Rock Cut State Park
If you've never paddled before, renting a kayak at Rock Cut State Park is a great place to start. Pierce Lake is the perfect size: at 162 acres, there's plenty of room for you to explore while not feeling too far from the shore. Surrounded by trees and wildlife, you will have a beautiful view for your first paddle. To rent a kayak, visit the Outdoor Store at the Rocktown Adventures at Rock Cut Concessions. The friendly and knowledgeable staff at Rock Cut will help you get settled into your kayak, give you a quick lesson, and help you launch. When you're finished, pop into the Lone Rock Café for lunch! We recommend the cheeseburger. Yum.
For Beginners:
Kane County Forest Preserve Naturalist's Paddle—October 3rd
Rocktown Adventures partners with the Kane County Forest District Naturalists for a series of ecological explorations! This paddle is perfect for nature lovers because the experts at the Kane County Forest Preserve share their knowledge of the Fox Lake region while you view it from the water. This paddle is part of a series, so the difficulty level may vary among each paddle. For this particular paddle, beginners (though not first-time paddlers) are welcome! For more information or to register for the Naturalist's Paddle, call 630-444-3190 or email programs@kaneforest.com.
Rock River Fur Trader's Run—October 16th
Did you know that the Rock River used to be used as a commerce highway by fur traders? Rocktown Adventures' Fur Traders Paddle takes you along that historic path. Paddlers meet at the Rockton Boat Ramp behind Hononegah High School and are shuttled to Downtown Beloit, where the adventure begins! While not for first-time paddlers, this is a great one for beginners! It is professionally-guided, about 7 miles total, and takes about two and a half hours. The cost is $50 and includes your kayak, personal floatation device (PFD), guide, and shuttle.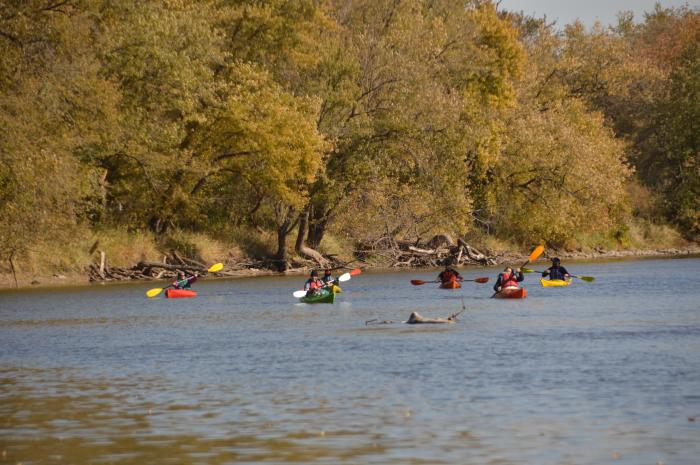 For Intermediate-Level Paddlers:
The Kishwaukee River Paddle—October 2nd
Escape to a fall wonderland during this paddle of the Kishwaukee River! From Bauman Park to Atwood Park, you will get lost among the beautiful foliage and wildlife around you as you paddle. While this experience does begin with about 30 minutes of on-land instruction, it is not a beginner's paddle—there are some obstacles to navigate that require a bit more skill. The cost is $55 and includes your kayak, personal floatation device (PFD), guide, and shuttle.
Turtle Creek Paddle Trip—October 9th
Experience the rich wildlife and historic landmarks located throughout this paddle trip on Turtle Creek! In addition to the fall foliage, paddlers will encounter the historic Tiffany Bridge: a beautiful hand-built, five-arch railroad bridge. Turtle Creek is a tributary of the Rock River, so at times the waterways are narrow and fast-moving which make it unsuitable for first-time paddlers. The cost is $50 and includes your kayak, personal floatation device (PFD), guide, and shuttle.
Sugar River Paddle Trip—October 10th
Perfect for viewing the fall leaves, the Sugar River flows through the rural countryside of wooded banks and secluded backwater areas. This paddle starts at the Sugar River Forest Preserve and ends at the Two Rivers Forest Preserve. There is some deadfall to navigate with this paddle, so some boat control skills are required. If you're unsure of your skill level, feel free to call Rocktown Adventures. The friendly staff is happy to help find the perfect experience for you! The cost is $50 and includes your kayak, personal floatation device (PFD), guide, and shuttle.
---
Take your fall activities up a notch and experience the season from a new perspective with Rocktown Adventures' kayak trips and rentals. Visit Rocktown Adventures in Downtown Rockford at 311 N. Madison Street, Rockford, IL 61107 or Rocktown Adventures at Rock Cut at 7223 West Lane Road, Loves Park, IL 61111. Events are subject to change, and reservations are required.
A note on health and safety:
The health and safety of customers and staff is Rocktown's first priority. Kayaks are cleaned and disinfected after every use and as many shuttles as necessary are used to maintain social distancing on trips. Personal Flotation Devices are absolutely required for all participants and staff. Thank you for respecting these guidelines put in place to protect all customers and staff.