Cozy weather is here! And what's better than an oversized sweater and flannel is a delicious fall drink! We have plenty of local coffee shops with some of the best fall flavors this season. Head to Rockford and get all the fall feels!
Rosie's Coffee Company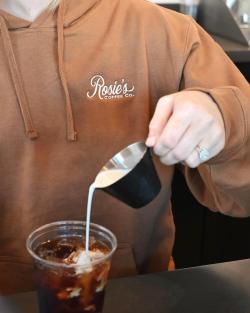 507 Main Street, Pecatonica, IL
Pecatonica's newest coffee shop is the cutest! It's modern, it's hip and the owners are super friendly! From delicious seasonal flavors to gluten free and vegan baked goods, you can't go wrong!
FALL SPECIALS: Black Cold Brew with Pumpkin Cold Foam and Apple Pie Cold Foam, Pumpkin Cheesecake Cold Brew Latte and Pumpkin Chai Latte.
Velvet Robot Coffee Lab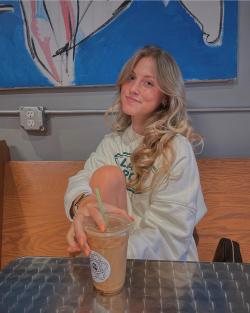 Photo credit - @avabankord, @double_chocolate27
116 N. Madison Street, Rockford, IL
Step into Velvet Robot Coffee Lab in the Rockford City Market building and you'll instantly have a smile on your face. Their space is quirky and fun! They specialize in artisan coffee beverages and offer a variety of delicious breakfast and lunch options. Check out their unique and delicious autumn specials this season!
FALL SPECIALS: Pumpkin Coffee Flights (Pumpkin Pie, Gilmore Girl, Pumpkin Cold Foam, Pumpkin Mocha), Pumpkin Pie Cold Brew and Gilmore Girl (white mocha and pumpkin)
Inzombia Coffee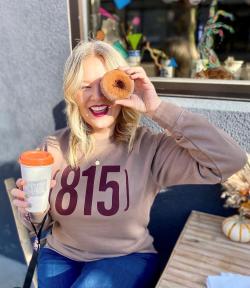 Photo credit: @rudabaga_jones
306 E. State Street, Rockford, IL
Finally, a coffee shop where you can come as yourself, "messy hair don't care!" Inzombia is laid back and "not fancy." They have a cute little shop where they promise to be humble, respectful and genuine. They make coffee for anyone and everyone!
FALL SPECIAL: Bourbon Caramel Apply Cider (complete with cinnamon and cloves)
Meg's Daily Grind 
Photo credit: @chazz_fp
1141 N. Alpine Road, Rockford, IL
Meg's is a local, family-owned coffee shop, serving Rockford since 2001! They have two locations, one on Alpine and one on Perryville. They provide a cozy spot to sip a coffee, read a good book or conduct a work meeting. We're lucky to have them in our community!
FALL SPECIALS: Pumpkin Crème Brulee, Harvest Nut Mocha and Sugared Maple Leaf
Rockford Roasting Co.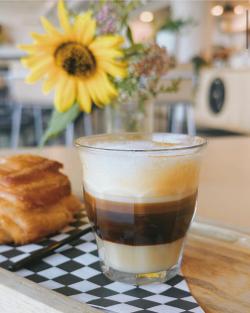 Photo credit: @abitofbreigh
416 S. Main Street, Rockford, IL
Locally owned and operated, Rockford Roasting has been roasting and serving great coffee in downtown Rockford since 2014. Its space is light, playful and inspiring. It's a great place to grab a delicious local brew, play a game with your kids, read a book or meet a colleague.
FALL SPECIALS: Hojicha Hot Cocoa, Spiced Cascara Soda and Café Bombon
Wired Café
414 E. State Street, Rockford, IL
Welcome to Wired! A locally owned and operated downtown Rockford coffee shop ran by a mother and her daughters. They offer a full espresso bar featuring top of the line syrups, fresh sandwiches, breakfast sandwiches and a homemade bakery. They are a must stop for your next fall beverage!
FALL SPECIALS: Pumkin Brulee (try it with Oat Milk!), Pumpkin Chai and Maple Syrup Latee
My Café Amore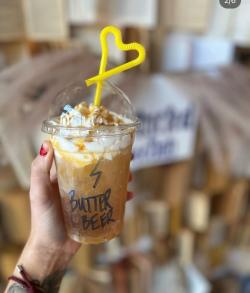 Photo credit: aiden_foreman17
125 E. State Street, Suite E., Cherry Valley, IL
My Café Amore has everything a true coffee lover could want! Their menu features cold brews, espresso, tea, blended drinks, macchiatos, lemonade, treats and more! Their vibe is playful and wizard-like, making you want to pose for a selfie and post on Instagram. They're a must stop this fall!
FALL SPECIALS: Caramel Apple Cider, Beetlejuice, Beetlejuice, Beetlejuice and The Witching Hour
Dee Dee's Main Street Coffee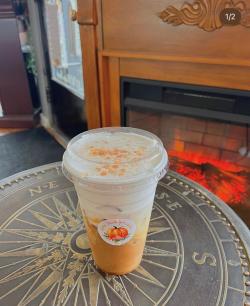 101 W. Main Street, Rockford, IL
Looking for a dee-licious drink? Head to downtown Rockton, IL! Dee Dee's Main Street Coffee brews high quality coffee and sells yummy sweet and salty snacks. Plus, you can shop home décor and more!
FALL SPECIALS: Caramel Apple, Pumpkin Spice Coffee and Pumpkin Spice Chai.
Learn more about other fall favorites in the Rockford Region at www.gorockford.com.