I found heaven on the corner of 15th and Chistina St.
You guessed it- 15th & Chris Burgers and Ice Cream.
If you have not checked out these burgers yet, then you are missing out! It has only been a few days, but I am already planning my next trip.  They say, "Taste so good! Make you wanna smack yo momma". Honestly, I'm not really sure what that means, but if I had to smack my mom to go again, I probably would.
I'm not kidding. (Sorry Mom).
These burgers were out of this world!
I went to 15th & Chris to try the FVV Bet on Yourself burger, and it did not disappoint! Between his game and the burger I just tried, I am definitely betting on FVV too. James Purifoy, the owner of 15th & Chris thinks "it's an awesome burger cause it's what Fred likes…it describes who he actually is".
Who is Fred VanVleet? Apparently: a burger with barbeque sauce, swiss cheese, bacon, banana peppers, and cilantro and lime cactus slaw!
Here it is: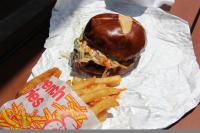 Let me tell you, this burger was delicious. As I took my first bite, a gospel-type song was singing "lifting me higher" and I think that is when I died and went to heaven. The burger was a perfect balance. Not only was the burger itself perfectly seasoned, but the myriad of toppings were a culinary experience unlike anything else. The barbeque sauce was sweet and tangy, but a little spicy, elevated by the peppers. The soft pretzel bun and crunchy slaw balanced each other out and tamed the heat from some of the other elements. Everything harmonized so well, that I finished my entire burger and all of the fries in five minutes flat.
Hence the reason I have to go back-it was over too quick!
Now let's talk about the fries.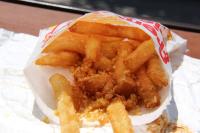 You can't get these fries anywhere else. They are coated in crumbles that I can only guess have parmesan and garlic, but who knows what else. I asked James how he makes them, he just smiled and said he runs around and catches them as they fall from the sky at one o'clock in the morning because they are intergalactic. I really wasn't kidding when I said 15th &Chris was out of this world😉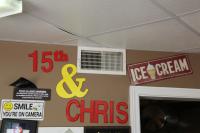 As great as all of the food was, my favorite part of my dining experience was the environment. 15th & Chris is a revived ice cream parlor, in the middle of a neighborhood, and it has some of the best positive Rockford vibes I have ever experienced. James hopes to inspire others in Rockford. The Bet on Yourself Burger and the Buddy Burger are just two examples of how James wants to inspire kids in the community to be entrepreneurs and build the Rockford community. Personally, I think James is a total inspiration. Everyone at the restaurant was so happy. Between the workers, patrons, and music I left feeling happy as a clam. I was proud of Rockford, and wanted to keep up the good vibes!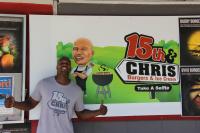 If you want an amazing burger and fries, and even better environment, head down to 15th & Chris!
Act fast though! The FVV Bet on Yourself Burger is only available until June 22nd!
(Then on June 22nd, in the spirit of FVV, be sure to check out FVV Fan Fest!)