One of the best parts of my job is that I get to enjoy all of our sites & attractions on a regular basis. I hate to admit bias but I have one: Rick's Picks at Burpee Museum is my favorite to date. 
Outside of my family and friends, there's nothing I love more than music. The Rick's Picks exhibit is like nothing I've ever seen before. It's the brainchild of Cheap Trick lead guitarist Rick Nielsen. A self-proclaimed hoarder, Rick has saved everything. I mean everything. The talented team (and designers of the exhibit) at GrahamSpencer went through four storage units of Rick's stuff to find the very best pieces to encapsulate Rick's impressive career.  
Compared to the Rock n Roll Hall of Fame, Rick's Picks is a multimedia experience that features everything from Rick's guitars, his clothing, his amplifiers; travel documents and personal memorabilia. But one of my favorite parts of the exhibit is the "theater" that shows a looping video of the FORs (Friends of Rick) talking about how they've been influenced by Rick. Dave Grohl (Foo Fighters/Nirvana), Chad Smith (Red Hot Chili Peppers), Slash (Guns n Roses), and Joe Elliot (Def Leppard) are a few of the FORs that are featured in the video. I think I have watched the video 10 times. 
Unfortunately the exhibit ends April 10th. But it's not too late! April 1st Cheap Trick Day! From 6 to 9pm visit Burpee to enjoy hors d'oeuvres, cash bar, access to Rick's Picks exhibit, and drawing for the winning ticket for the specially designed Hamer guitar. Rumor has it that Rick will be drawing the winner... And I don't want to give anything away, but in my experience, it's probably true. Another great thing about the exhibit: Rick is there all the time!
Only in Rockford could you find a world-class exhibit where the star himself is a regular patron. This is me at the exhibit: with Rick!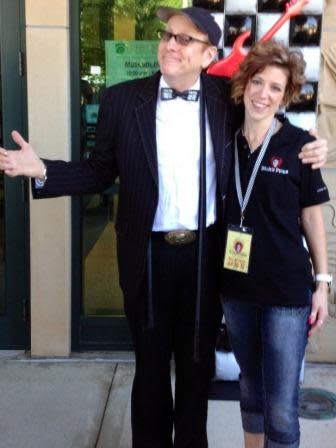 For more information on the April 1st event, click here. Burpee Museum is open 10am to 5pm seven days a week.