Area native and professional esports commentator Jamie Diaz Ruiz is busy prepping for the NBA 2K League Draft, which is set for 5 p.m. CT Saturday, February 22, at Terminal 5 in New York City. Well known for his on-air expertise, Diaz Ruiz has spent the past few years as a lead broadcaster for global events featuring signature gaming titles like Call of Duty and NBA 2K. Now, he's attempting to make the leap to the League as a professional player this weekend, when Diaz Ruiz hopes to hear his name called by one of the 23 NBA 2K League franchises.
During the run-up to the Draft, GoRockford caught up with Diaz Ruiz to talk esports, broadcasting, growing up in the area, professional athletes and more.  
GoRockford: How are the nerves holding up during draft week?
Jamie Diaz Ruiz: As of right now, the nerves are pretty good. Each day that goes by, you start to feel more anxious to get out to the draft and see which NBA organization you're going to be representing for the next six months. Throughout the whole process, nerves really haven't been that much of an issue, but I'm sure once I get to New York, get the suit on and head to the draft, it's going to be a different story.
GR: Anything different nerve-wise about prepping for a broadcast versus prepping as a professional esports player?
JDR: For broadcasting, I've only ever had two moments where I've gotten nervous. My first ever broadcast back home in 2013 when I was 18 years old, and my first ever live in-person broadcast that I did.  After that, I never had nerves commentating, hosting or presenting in front of crowds of 100,000-plus people watching from home. As a professional player, there's so much more on the line compared to being a commentator. Your job is to compete and play at the highest level, the expectation is to win as many championships as possible, all while also representing your organization in the best way possible. Nothing comes close to the feeling leading up to playing.
GR: How long have you been playing NBA 2K and what drew you to that game?
JDR: I've been playing NBA 2K since NBA 2K10. One of my friends, Remy Montieth, introduced me to the game. The only other sports game I played before that was FIFA. When Remy introduced me to NBA 2K, I was hooked on the MyCareer mode, where you could build your own player from scratch and build it however you want. At the time, it was one of the most unique things ever done in a sports game—creating your character and going through a story mode of your path to the NBA. Another thing that really drew me to 2K was once you made the character, you could use him to play online in a game mode called 'Crew Mode' which was a 5v5 setting similar to how the NBA 2K League is structured. 
GR: You're originally from England, but now you call the Rockford area home. On your Twitter account, you proudly claim Rockford, IL as home. Can you share a little bit about where that pride comes from?
JDR: My family moved over from England in 2004 when I was about 10 years old. Moving to a different country was definitely scary at the time. In England, especially at my age, you don't really learn about other countries unless it's anywhere else in Europe. The only thing I knew about the U.S. first coming here was that they had trolleys in San Francisco that drove in the middle of the roads, which I found so odd. When we first came over, funny enough, we actually lived in the Clock Tower hotel until we were able to find a house in the area, which ended up being in Byron. For me, Rockford is a second home that I've never really lived in. Everything you need is in Rockford—shopping, groceries, entertainment, plus I've worked a few jobs in Rockford over the years as well. 
GR: Before esports, what did you do professionally?
JDR: Before esports, I was really just bouncing from job to job. I worked as a server/bartender at the Fifth Alarm in Byron before moving to Arizona for a year where I was a water restoration technician. When I moved back to Illinois, I was finally able to pursue a career in esports.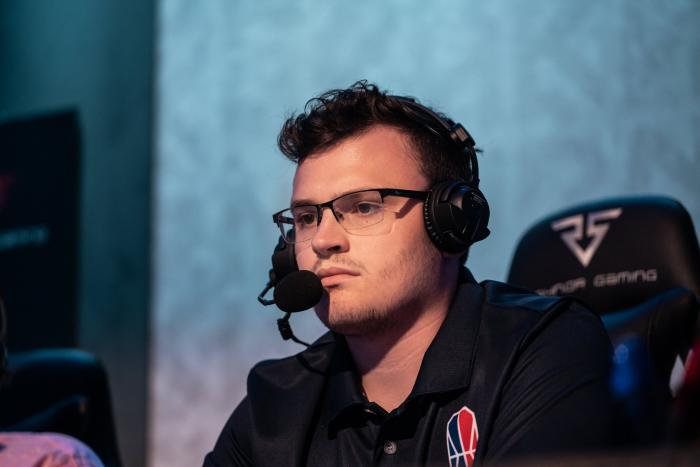 GR: What led you to esports?
JDR: Something I've always prided myself on, in either esports or just the working world, is trying to build up my resume to gain as much experience as possible. I started by trying to stream on Twitch and create content on YouTube. From there, I learned how to create content while also editing my videos, mastering audio when doing voice overs, and learning Photoshop so I could create my own thumbnails for my videos. After that, I got into commentating and had to learn an entire new world. Improvising was something that I loved to do. I took drama classes in high school, and that definitely helped a lot as a commentator. Since starting in 2013, I always loved to observe individuals and what they do in esports, so that way if I ever wanted to try something new—like being a professional player, manager, or something more towards the business side of things—it could become a realistic option.
GR: How would you describe the esports scene in Rockford?
JDR: Being one of the few involved with esports in the area, I'm always trying to find people who share common interests. I'm thankful to have met a handful of people who play the same games that I play. Back in the day, when GameStop was in the mall and Crazy Penguin was around, I remember there being small Call of Duty tournaments before the launch of the game, as well as the line of people waiting to get the game. As of right now, I'd say the esports scene in Rockford is small, but I'd love to see some events in the area featuring games like League of Legends, Fortnite, Call of Duty, NBA 2K. I feel like we'd really see the power of esports in Rockford when that happens.
GR: Any other favorite games besides NBA 2K?
JDR: Call of Duty is always going to be a sweet spot since that's where I started in esports. I started competing when I was about 14 years old and still play it now competitively. Gears of War was another game I loved to commentate and play. But, man, I'm going to be honest, I might be the worst Gears of War player in the entire area (laughs).
GR: Being that we're in Rockford, we have to ask—do you find yourself, one, rooting for the Toronto Raptors, and, two, playing as Fred VanVleet when you jump online?
JDR: I'm a huge Dallas Mavericks fan. When I first moved to the US, the first game I ever watched was the Mavericks vs Suns, so I fell in love with them. But if I had to pick a second favorite team it'd definitely be the Raptors since Fred is on the team. I remember watching him when he was in high school a few times and man he's special. Seeing his journey at Wichita State to seeing how much he has progressed in the NBA is truly spectacular. The way he prides himself in being such a humble guy, and how he turned so many heads last year in the NBA Finals. I definitely was hoping the Raptors would take the championship home. Funny enough, when NBA 2K first comes out, the demo version has Fred VanVleet as one of the players you could use to dribble around the court and practice moves. I saw an outpouring of people posting clips of them using Fred, which is awesome to see. I'm not the greatest at using point guards because I mostly play big man, but it's still enjoyable to see someone from Rockford in the game.
GR: Esports has at times gotten some flak for being referred to as a sport. Where do you think esports falls within the spectrum of sports?
JDR: Esports is a sport. You're competing, you're using your reaction time and individual skill when it comes down to the game you're playing. Classifying it as 'esports' really isn't bad, since technically it just stands for electronic sports. But like any sport, there's a skill gap. If a person who never played basketball tried playing Fred VanVleet in a game of one-on-one, he or she would lose. If a random person came up to me and tried playing me in NBA 2K, he or she would also lose.
GR: What are some things you've learned, either as a broadcaster or player, that you believe you would've only learned through esports?
JDR: From being a broadcaster, the biggest thing I've learned is just people skills. I was already an interactive person prior to becoming a broadcaster, but at a lot of these events you're talking with high level executives, celebrities or professional athletes. It gives you a different sense of confidence knowing you work on camera and do a good job compared to another career where you wouldn't necessarily have that opportunity. Another big takeaway comes from being self-employed—you learn a lot about tax scenarios, money management, negotiations, contracts, travel and more. You're kind of the Swiss Army knife of your own little business if you will.
GR: How many players try out for the NBA 2K League—and better yet, how many will get drafted for the 2020 season?
JDR: For season 1, over 70,000 players tried out for the League. From there, it was cut down to the top 250 players in the entire world, and after that was cut to the final 102 players who were guaranteed to be drafted. Moving into Season 2, the qualification process got a lot harder, and not everyone was eligible to be drafted so it was definitely a huge risk. In season 3, similar to last year, not everyone gets drafted. The draft pool consists of almost 200 players competing for 68 spots in the league.
GR: Any idea where you might end up, and which position you'll play?
JDR: The scary part about the draft process is not knowing where exactly you're going to be. I've had about seven interviews with teams that have all gone extremely well, and I could see myself going to any of those teams. But it's a draft, and all it takes is one person to slip to a team, and then everything gets shaken up. Leading up to the draft combine this year, I competed in team tournaments, which were hosted by some NBA 2K League teams. I made the finals of the Charlotte Hornets event and a couple weeks later I made the finals of the Washington Wizards event. We flew to Washington D.C. to participate and ending up coming out with a win, so D.C. is a favorite of mine because I won the tournament and got to speak with numerous staff members while I was out there. In terms of position, I'll either be playing power forward or center. I've played center ever since I first loaded up NBA 2K10. Anybody who plays those positions should be able to switch back and forth and still be able to compete at a high level.
GR: Post-draft, what's the plan?
JDR: Post-draft is always a scary time, especially when I was commentating because that's when esports really hits a slow spot. In terms of being a player, if you perform well enough during the season, you have a chance to be retained by the team you got drafted by and make some money in the offseason by creating content or live streaming for your organization. Ideally, that's what I'd like to have happen. This offseason, I'd like to try to engage with the local community more in some way—maybe that means hosting a small NBA 2K tournament to see what kind of talent we have in the area. Who knows!
ABOUT THE NBA 2K LEAGUE: A joint venture between the NBA and Take-Two Interactive, the NBA 2K League is a 23-team professional esports league featuring the best NBA 2K players in the world and the first official esports league operated by a U.S. professional sports league. NBA 2K20's launch month sales were the highest for any sports game in history, and the NBA 2K series is now the 6th largest video game franchise based on tracked full-game dollar sales. The global esports audience will reach 453.8 million this year and will generate revenues of $1.1 billion (+26.7% YoY; Source: Newzoo, 2019). A number of NBA teams, owners and former players are already looking to the future of the esports industry, investing in esports franchises/holding companies.