This is our friend Julie Huber! She is Go Rockford's Destination Development Operations Manager. When she's not busy creating fun events at work, she also likes to have fun and enjoy her spare time right here in the Rockford region. We asked her where some of her favorite local jaunts are and she gave us such a great lineup. Thank you Julie for all you do to turn up the fun so we can all enjoy everything outdoors - and everywhere in between - here in our fantastic Rockford region.
A. I am a Rockfordian, born and raised. This has been my home for more than 50 years. I lived in New York City for a few years and could have stayed longer but the idea of raising kids in such a large city was not appealing to me. Coming home to Rockford made sense. The Northern Illinois Region is a nearly perfect area of the country to live. Joining the Go Rockford staff has been a natural fit for me. I had been a volunteer for Stroll on State since the first Decoration Day in 2013. I was excited to immerse myself in the Stroll on State event planning full-time as well as being part of CRE8IV Mural program, Forest City Beautiful, and other initiatives that attract visitors to our region.
A. On any given weekend, my husband and I love to visit local breweries, distilleries and wineries. The Rockford region has so many great ones like Barnstormer Distillery, Carlyle Brewing Company, Pig Minds Brewing Company, Prairie Street Brewing Company, Urban Forest Craft Brewing and DC Estate Winery. Our master distillers, local brewers and sommeliers create some of the best flavors in the Midwest.
A. If I didn't live in Rockford, Cherry Valley would be the town for me, it is a hidden gem so close to everything. Baumann Park has a beautiful walk path around the lake and the Kishwaukee river runs alongside it. Enjoying Dinner at Salamone's and dessert at Cattle & Cream is a perfect date night. 
Q. How do you and your family enjoy spending time outdoors in the region?
A. My husband and I are not athletic but we do enjoy the plethora of recreation paths. Along with the path in Baumann Park; Midway Village Museum, Rock Cut State Park and the Sinnissippi Bike path offer scenic views and wildlife spotting.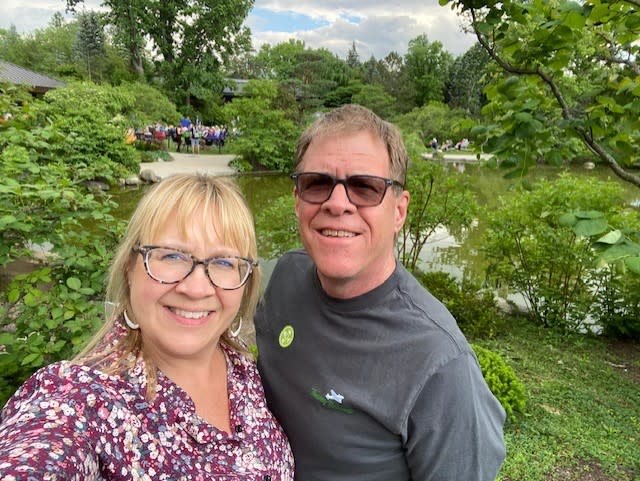 Q. What are you most looking forward to this summer in the Rockford region?
A. The Rockford region has so much to offer in the summer time. We love to take in a Rockford Rivets baseball game. Anderson Japanese Garden's Tuesday Evening In the Gardens is another way we enjoy a weekday evening and I can't wait to hit up the farmers markets. IF you can't find something to do then you aren't looking is what I say.