In my search for a one-of-a-kind Mother's Day gift, I stumbled upon the "Off the Menu" option at Abreo Restaurant. Having never visited before, I thought this would be a unique place to bring my mother to treat her to dinner and drinks! In the center of downtown Rockford, IL, Abreo is known for their original, seasonal menus sourced heavily from local farmers. The Chef's Tasting gives the customer the option to choose how many courses you would like and your savory/sweet preferences. After factoring in any allergies or intolerances, Abreo's talented chefs show their creativity by cooking off the menu! There's also the option to have a custom wine pairing with each course. 
Arriving on a calm Monday night for our reservation, we were greeted by friendly staff and a comfortable dining area. For our Chef's Tasting, I had chosen 2 savory courses and 1 sweet course with custom wine pairings for each. To begin, we were presented with an appetizer made of tuna crudo on top of avocado with a sesame and miso vin. Small, but outstandingly delicious; I knew immediately that I had made the right restaurant pick. This course left us wanting more as the chef certainly piqued our interest and our taste buds.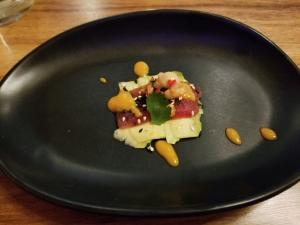 While waiting for our first savory course, our waitress brought us fresh bread sourced right from Mary's Market in Rockford, IL. The strong scents of bread fresh from the oven resulted in me stealing a piece before my mom was able to snap the picture. The bread was just SO warm and smelled SO delicious; I couldn't help myself.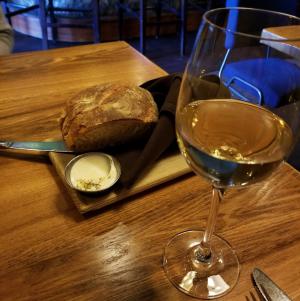 The courses to follow were nothing less than amazing! Our first official savory course was an arugula and kale coppa salad topped with parmesan garlic dressing, goat cheese, and cured egg yolk. My mom and I both agreed that we wouldn't have chosen arugula and kale as our first option, but after tasting this dish, we were left needing more! Our waitress also paired the 2016 Broadside Wild Ferment Chardonnay (Paso Robles, CA) with the light dish. Bright and refreshingly dry, this chardonnay matched perfectly as it boasted pear and apple hints.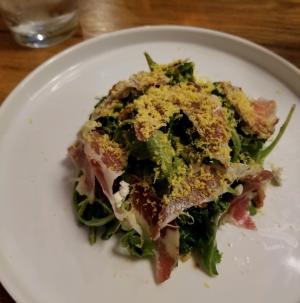 For our second savory course, the chef graced us with a large portion of morrel pappardelle, harrison merlet asparagus, arugula and parmesan. Morrels had been freshly picked a few days prior, and we were lucky to get some after a busy Mother's Day weekend! Our waitress also paired this course with their 2014 Printers Alley Red Blend (Paso Robles, CA). This wine holds berry and cherry flavors to create the most enjoyable red blend possible. This meal left us feeling full and satisfied as we awaited our final course.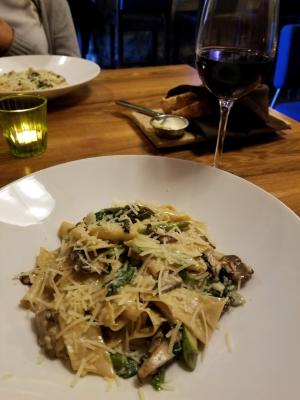 Our skilled chef must have known that my mother and I were almost completely full from the courses prior because this last course was sweet and light - just perfect! For this sweet course, our chef made a raspberry white chocolate ice cream on top of feuilletine flakes complete with chantilly cream, lemon zest and fresh raspberries. Lafleur Mallet was our third and final wine pairing. This wine is most commonly paired with fruity desserts and has hints of oranges and honey. Although such a small glass and such a delicious dessert, our three course meal at Abreo left us feeling full, and it was hard to finish this final course off!
Abreo Restaurant went above and beyond all of my expectations! The atmosphere and friendly staff made Abreo the perfect place for dinner. Each course was uniquely crafted by their skilled chefs and left us full yet still wanting more. To Abreo -- I will most definitely be back in the future, and maybe I will order something ON the menu next time. To anyone reading -- I highly suggest their Chef's Tasting if you are adventurous or want to treat someone special in your life to an absolutely one-of-a-kind experience. 
Abreo Restaurant
515 E. State St. Rockford IL 61104
Hours: Dinner Monday-Saturday 5pm-10pm & Bar Monday-Saturday 5pm-12am or later
For reservations or other info, call 815-968-9463 or email at info@abreorockford.com