The Rockford IceHogs have rediscovered their stride at just the right moment as they secured their spot in the 2017-18 Calder Cup playoffs along with the Chicago Wolves, Grand Rapids Griffins and Manitoba Moose. With wins in six straight games and points in 16 of the last 19 contests since Feb. 24, the Hogs have leapt Iowa in the standings to clinch a place in the playoffs.
"They're playing hard, competing hard, it's big games every night, playing teams we're fighting with for playoff position," said IceHogs Head Coach, Jeremy Colliton. "We say it before every game, this is fun, this is why you play through what sometimes feels like a grind earlier in the year so that we can be in these types of games.  It's tough and there's a price to be paid to win, but it's worth it in the end."
A perfect mix of rookie talent and veteran leadership has helped the IceHogs to an overall record of 38-25-4-4 entering the final two weeks of the regular season. The roster is highlighted by rookie standout in forward Matthew Highmore, who this year set the team's AHL record for most goals by a rookie, and veteran goaltender Jeff Glass, who is in his 13th year of professional hockey. Glass has appeared in 48 playoff games (in the Kontintental Hockey League) during his pro career, and is anxiously eying his first postseason contest in the American Hockey League.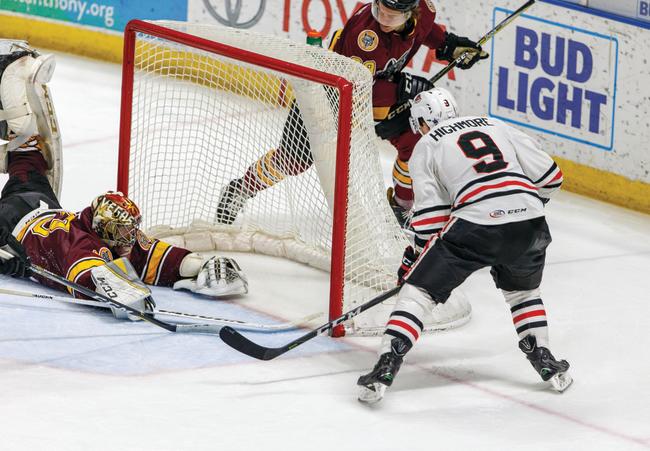 Photo credit: Todd Reicher
"Playoffs are the best time of the year and I've never made playoffs at this level, so that's my major focus, that's what's pushing me right now through these practices and these games," said Glass. "Once we get there, I think anything can happen."
Colliton agreed, and suggested it's the team's tandem of rookie talent and veteran presence that will serve as the driving force if the IceHogs are to make a deep run in the Calder Cup playoffs.
"I think for the development of our young players, it's really important that we're in a battle right to the end," said Colliton. "That's a great development opportunity, no matter how big your role is, just to be around it and start to understand what it takes to be a winner and have success in big situations. Playoff-wise, same thing. What an experience it could be to get this group in and go as far as we can go."
Looking ahead, the IceHogs have dates with divisional opponents in three of their five remaining games. But with just one of those coming on home ice (April 13 vs. the Chicago Wolves), they will have to put in the work in some hostile environments to get the chance at a few more outings in front of their loyal fans at the BMO Harris Bank Center during the Calder Cup playoffs.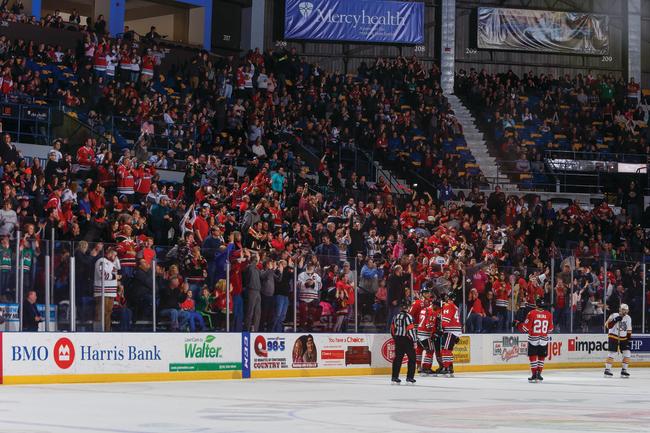 Photo credit: Greg Hamil
"Regardless of whether we're at home or on the road, we know we've got to get points every night, and it's been like that for a while," said Colliton, "I think February was kind of our last real chunk of games at home, so since then we've known that you have to grind out points away, and we have done that. But I don't think the approach (to games) should change because we're home or away…just play the same way."
Veteran defenseman Viktor Svedberg, one of four current IceHogs players to have partaken in the team's last Calder Cup playoff appearance in 2015, echoed both Colliton and Glass on the team's mentality as Rockford approaches the postseason. Svedberg is impressed with way the IceHogs have performed on the ice as of late, and is excited about the prospect of having another crack at the AHL's top prize.
"This time of year is the most fun to play hockey," said Svedberg. "You always want to end up in the playoffs, and I think we've got some games left to show that we really want to be in."