We've been "All In for Illinois" during the pandemic, but as we hit the unofficial start of summer, we're ready to enjoy our state safely. Check-in every Tuesday for an Illinois Road Trip Round-Up on themed topics showcasing eighteen destinations across Illinois. This week, we're touring some of the state's best fishing spots! So pack up the family, bring your masks, and get ready for a road trip!
Rockford
Locals in the Rockford region know that one of the best fishing spots in the area is along the banks of the Rock River. Winding right next to the Rock River is the Rock River Recreation Path, a ten-mile paved path built in 1976 as a bicentennial community project. The path passes by several area attractions including Nicholas Conservatory, Sinnissippi Gardens, Shorewood Park, and Martin Park. Anglers can stop anywhere along the Rock River Recreation Path and cast a line into the Rock River from the bank or one of the several docks along the path. The fish likely to be caught in the Rock River include catfish, smallmouth bass, bluegill, and walleye.
---
Enjoy Aurora
A pool of clear bubbling water sparkles like silver at Silver Springs State Fish and Wildlife Area, the host location each year for Northern Illinois Hunting & Fishing Days, nearby to the Plano Synergy Outlet Store. Majestic oaks and prairie grasslands provide a panorama of natural beauty to park visitors, including views of the Farnsworth House across the Fox River, which runs through this picturesque area. Natural prairie restoration gives visitors a feeling of the original landscape with native wildflowers, songbirds, waterfowl, and upland game. Picnicking, fishing, and hiking are popular pastimes in summer, with ice fishing, sledding, ice skating, and cross-country ski trails available for the winter sports lover. For relaxing, exercising or just enjoying nature, Silver Springs is the perfect getaway location.
Visit Bloomington-Normal
Come to Bloomington-Normal for your next fishing trip and cast your line in some of the best lakes in Central Illinois! Lake Bloomington is one of Illinois' best-kept fishing secrets. The ongoing fish stocking provides anglers an opportunity to test their skills on an abundance of fish including walleye, largemouth bass, Northern Pike, and catfish. Evergreen Lake's 10-HP limit maintains a relaxing and natural atmosphere. This 900-acre reservoir has state record hybrid walleye, big muskie, crappie, and bass making it a favorite for both the casual and tournament fishermen. Dawson Lake at Moraine View State Park is exceptional for bank anglers. This beautiful lake is regularly stocked with largemouth bass, bluegill, sunfish, crappie, and walleye. No boat of your own? No worries! Each lake has boat rentals available for your convenience! Whether you're on a boat or on shore, angling is always good in Bloomington-Normal.
Visit Champaign County
There are several hotspots for fishing in the greater Champaign County area. Specifically, the ponds, lakes, and rivers within the Champaign County Forest Preserve District are popular spots for fishing. Possibility Pier at River Bend Forest Preserve is a favorite amongst regional fishers. Designed for universal accessibility, the pier allows a seated person to fish through railing slots and use tackle tables at just the right height. Middle Fork River Forest Preserve also features three separate ponds of over 3 acres each that offer a whole weekend's worth of action for those looking to take a trip in-state.
Meet Chicago Northwest
Busse Lake is a fantastic fishing destination for anglers of all levels! Test your skills and take advantage of the bountiful fishing opportunities for largemouth bass, walleye, northern pike, muskie, and more. Explore the scenic 419 acres either by boat or by walking the shoreline. Don't have a boat? No problem, just swing by Busse Lake Boating Center and check out their affordable boat rentals for kayaks, rowboats, canoes, fishing boats, and paddle boats (they also have bait and tackle available). Enjoy some peace and relaxation by casting out a line at Busse Lake this summer!
Chicago Southland
"Looking for the perfect place to cast a line? Look no further than Chicago Southland! Visit Monee Reservoir, a 46-acre fishing lake with free shoreline fishing. If you prefer to venture out onto the lake, boat rentals are available to enjoy on-water fishing. Or journey to the 13-acre Arrowhead Lake in Palos Heights. With a maximum depth of 12.6 feet and three bump-outs allowing access to deeper water, Arrowhead Lake is ideal for catching largemouth bass and even has a designated ice fishing lake for the winter months. Click here to view even more local fishing spots. With so many picturesque lakes, ponds, and streams, you're sure to have a "reel" good time in Chicago Southland!"
Visit Effingham
Take a drive to Lake Sara, an 800-acre lake whose 27 miles of shoreline lies just a few miles from where I-57 and I-70 cross. Since the late 1950s, Lake Sara has been a favorite fishing spot amongst fishermen across our great state. There are several public access points for shore fishing, including the accessible fishing area near the dam. Here, you can find a variety of species, including bass, channel catfish, bluegill, and white and black crappie. You can also enjoy amenities such as restaurants, marinas, campgrounds, and golf courses in the vicinity from Memorial Day to Labor Day.
Explore Elgin
All throughout the Elgin area you can find incredible riverfront spots perfect for a fishing day trip. The Fox River runs through many great communities. Enjoy your fishing trip in Elgin, West Dundee, South Elgin, Carpentersville or East Dundee along the Fox River Bike Trail. We highly recommend the Elgin, East Dundee or West Dundee area. There are a lot of great spots on the Fox river and they're all located near amazing restaurants and shops that are perfect for a lunch or snack break. If you're wanting a full day trip or a weekend getaway for fishing with the family, you will not be disappointed!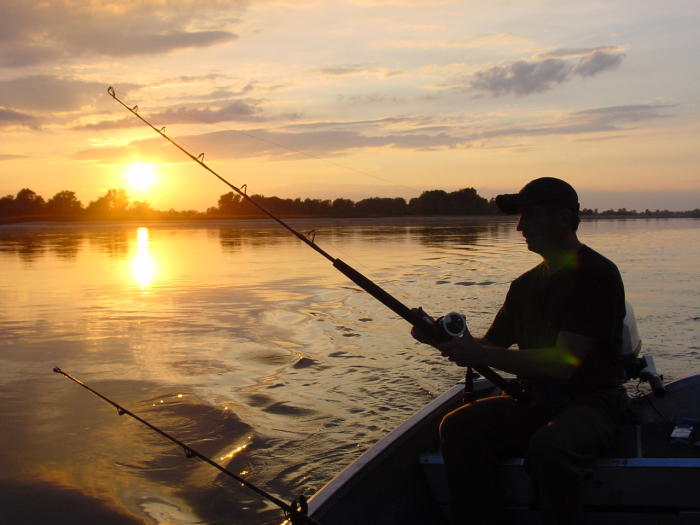 Great Rivers and Routes
Cast a line in the rivers and lakes in the Great Rivers & Routes region of southwest Illinois and you won't go home empty-handed! Reel in catfish found in the Mississippi River waters that hug the shorelines of Alton and Grafton. Or take your boat and tackle box to the 59-acre lake at Beaver Dam State Park, located outside of Carlinville in rural Macoupin County, or discover Horseshoe Lake State Park in Collinsville, and hook some bass, bluegill, or channel catfish. Leisure and tournament fishing is available throughout the region.
Heritage Corridor
You could say that the Heritage Corridor is quite a catch for fishing! Whether you're visiting the peaceful serenity of the Lemont Heritage Quarries Recreation Area (pictured) or fast-action fishing of the Illinois River, anglers from all over enjoy their time in the I&M Canal Heritage Corridor area. In fact, the Bass Pro Shops and Cabela's Master Walleye Circuit frequently visit Spring Valley, IL along the Illinois River during their tournament season.
Illinois South
There is fishing aplenty in ILLINOISouth, and one of the most popular places to cast a line is Carlyle Lake. It is the largest man-made lake in the state, covering well over 24 thousand acres with 85 miles of shoreline. Crappie, carp, and channel catfish are three of the more common fish that can be caught at Carlyle Lake. Likely the biggest draw of Carlyle Lake to make it a fishing destination is simply the array of amenities available. Visitors will find plenty of boat ramps and parking, along with dozens of picnic tables, grills, shelters, and restrooms. Not to mention the tent camping, trailer camping, showers, and electricity hookups for those who want to call Carlyle Lake home for a few days. Another lake that is more of a 'hidden gem' is Newton Lake in Jasper County. This body of water is actually heated by the nearby power plant, so bass grow fast and can be caught all year long. For those interested in making a weekend of fishing at Newton Lake, you can stay at the Outdoor Sportsman's Lodge - which pro angler Denny Brauer calls a 'sportsman's paradise.'
Jacksonville Area
This 500-acre man-made lake is filled with bass, bluegill, red-ear sunfish, and channel catfish. It is the perfect location for boating, water skiing, fishing, and other water activities. Camping and boat dock are available and a new walking path and trails were added in 2019. The lake is known for their fishing tournaments and was once named the #1 Fishing Spot in the State of Illinois by Field and Stream. The lake is located three miles south of Jacksonville off of Route 267.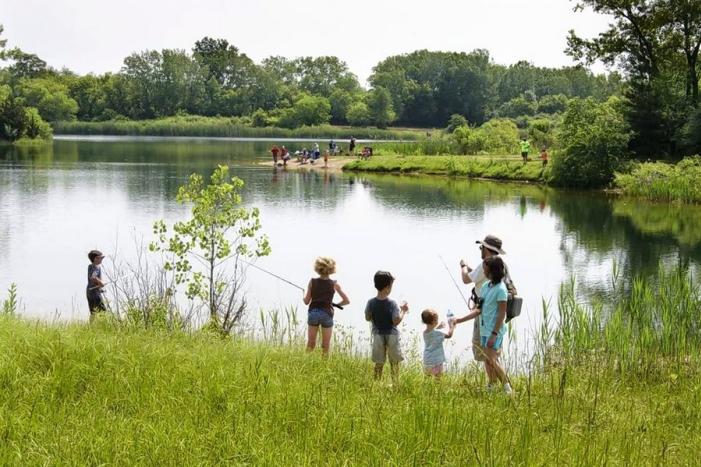 Visit McHenry County
Fishing at Lake Atwood in The Hollows is a great place to take kids. Bluegills are everywhere, use a redworm or waxworm on an ice fishing jig for best results. The Hollows is an example of a site that is in an ecological state of flux. Native species are doing their best to thrive in an environment that has felt numerous human pressures over the years ranging from agricultural uses to extensive gravel mining. Little by little pockets of native plants are thriving and are a testament to their own success story.
Enjoy Peoria
The heart of Illinois is full of amazing fishing locations you and your family or friends can enjoy throughout the year. Known as Illinois' River City, Peoria lies along the Illinois River, which is almost 300 miles long with close to half of the river flowing through the central Illinois area, you can guarantee the area is full of rich fishing opportunities. The Marshall State Fish and Wildlife Area in Lacon is nearly 10 miles of scenic Illinois River backwaters, bottomlands and bluffs. Over in Canton lies Banner Marsh State Fish and Wildlife Area which is protected from the Illinois River by a major levee. A quick 15-minute drive from Banner Marsh lies Emiquon Preserve in Lewiston. Not only is there great fishing at Emiquon but there are also opportunities for bird watching, learning about the area's history while exploring Dickson Mounds Museum and canoeing. Don't forget to check out Wildlife Prairie Park and Jubilee College State Park for great hiking and scenic views while you find the perfect fishing spot. 
Visit Springfield
Lake Springfield is a 4,260-acre, 6.65-mile reservoir on the southeast edge of the city.  It is 560 feet above sea level with a max depth of 37 feet and 57 miles of shore length. Popular species in the lake include flathead catfish, blue cat, channel cat, largemouth bass, and bluegill.  There are six public boat launches located around Lake Springfield.  Two highlights are the launch off I-55, exit 88, the Lake Springfield Marina Boat Launch, and Lindsay Bridge Launch where one of the boat docks is wheelchair-accessible.  Boat licenses can be obtained at both of these locations.