This morning we took a quick trip to check out a new bakery in town called Backstube. 
Backstube is a German bakery that features breads, rolls, pretzels, tartlets, muffins, cakes, croissants, sweet buns, danishes, and other sweets.
I went with a coworker to find out more about them, talk to them about being guests on our radio podcast, and of course, do a little sampling. This is dangerous because not only do I have a sweet tooth, but pastries and baked goods (pretty much any carb) is my weakness.
And I was not disappointed. I tried a bite of a few things: the chocolate croissant and the almond horseshoe were my favorites. The chocolate croissant was huge and was drizzled with chocolate and filled with a little chocolate. Not too much though - just the right amount. The almond horseshoe was dense but very moist with a wonderful light almond flavor.
I'm not a huge fan of rhubarb, but I tried the sour rhubarb cake at the recommendation of the manager and it was very good as well.

They also have a small lunch menu including ham & cheese croissants, frankfurter rolls, tomato mozzarella sandwiches, and a few other items.
I will definitely be back! Backstube located at 4767 Broadcast Parkway, across the street from Peak Fitness. Good thing I don't belong to Peak or I'd be making many stops at Backstube after a workout!

Welcome to Rockford, Backstube!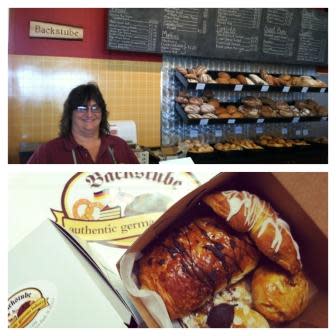 Backstube is open 6:00 a.m. to 6:00 p.m. Monday through Friday; 7:00 a.m. to 5:00 p.m. Saturday; and 8:00 a.m. to 2:00 p.m. Sunday.