It's not all Misery at GoRockford.
Yesterday we announced that a new robotics competition is coming to Rockford on August 3. The Rock River Off-Season Regional (R2OC) competition will be hosted at Rock Valley College and will draw approximately 400 students from at least 20 robotics teams in the Midwest.
The competition is a collaborative effort of four robotics teams from Northern Illinois; the Metalheads from Freeport, Winnovation from Winnebago, Rockford Robotics from Rockford, and the Flaming Monkeys from Belvidere. These teams, together with the RACVB, worked together for several months to conceptualize and plan this new competition that is unique to the region. 
R2OC is based on the ever-growing international FIRST Robotics Competition® (FRC) that combines sports with the rigors of science and technology. This year more than 51,000 high school students from 2,550 teams will compete in FRC®. FRC's® 2013 game is called the Ultimate Ascent, where teams must create and program their robots to toss as many flying discs as possible into its goals during the timed match. The match ends with robots attempting to climb up pyramids.
The competition supports high school Science, Technology, Engineering & Mathematics (STEM) Education Coalition programs. By hosting the event in Rockford, it provides an opportunity to highlight talent among local students, as well as expose future engineers from around the Midwest to the opportunities and businesses that are located in the region.
Quidditch, Lacrosse, and now Robotics: another great example of our sales team's ability to think outside the box when it comes to bringing new visitors to Rockford!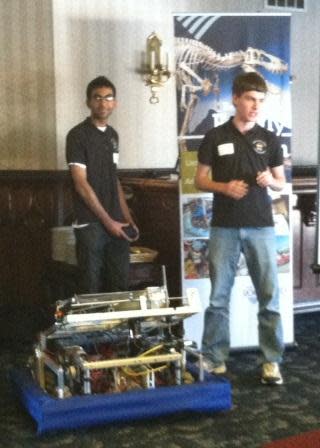 Flaming Monkeys Robotics students demonstrate their robot for the Ultimate Ascent.