We're all in this together! Never has that felt more evident. Even with major fundraisers, art exhibitions, programs and classes being rescheduled, postponed or canceled at Rockford Art Museum—we're committed to helping enrich the quality of life in the Rockford region, now more than ever.

In spite of our doors being closed, we're right here with you. Engage with us on our Facebook page, facebook.com/rockfordartmuseum, where we share everything from behind-the-scenes exhibition info to chats with artists, donors and local art figures. We also have a free mobile app with artist-led gallery walks, curator talks and more: app.cuseum.com/rockford-art-museum. In the same way that we encourage you to support local restaurants and shops by purchasing gift cards now to use later, consider purchasing a museum membership for you or a friend! 

Stay in touch with us online, and check out one of our latest weekly e-newsletters: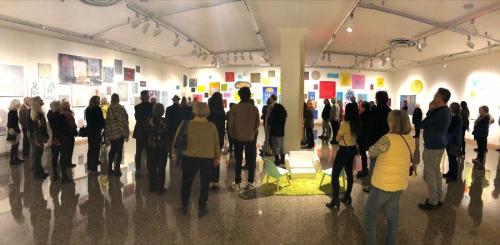 Hello, Rockford Art Museum Family! Hope you all are being safe and healthy at home and finding new ways to connect in this unique time. We are so grateful to all of you that have reached out and given your support to the museum and to the artists whose work we've shared these past couple of weeks. We certainly believe that art is a unifier and we feel so connected with all of you as we navigate our new (temporary) normal! Keep creating, keep sharing and keep looking for ways to be inspired! You inspire us.

Recently we launched a YouTube channel where the first "Cocktails with the Curator" video can be seen. A handful of you wrote Executive Director/Curator Carrie Johnson questions about the museum's collection, feature exhibitions and educational programs, and she addressed them with a glass of wine from her home. If you have a question that didn't get answered, please email her at cjohnson@rockfordartmuseum.org and maybe it'll be answered in the next video! Be sure to check out our Instagram and Facebook feeds to see other behind-the-scenes videos, the final schools featured in our 79th Annual Young Artist Show and fun family art activities.

We are excited to participate in the international social media campaign "between art and quarantine" (@tussenkunstenquarantine) where people from around the world have taken a favorite piece of art and interpreted it with things from their homes. RAM Staff has created a couple of pieces and we'd love to see what you create as well! You can find a piece from our permanent collection to mimic by visiting our website or feel free to interpret a piece from another museum's collection. Let's see what we can create! (Don't forget to tag us! @rockfordart)

If you're looking for a way to support us during this time, please consider becoming a member or renewing early (12 months will be added to whatever you have left of your current membership). Other ways you can help are by buying tickets to upcoming events (Art X happening in July, Art in Bloom Preview Party and Fashion in Bloom in December), by purchasing a cool Rockford Art Museum t-shirt or simply by making a donation. We so appreciate every gift, large or small! Visit rockfordartmuseum.org to register for events/programs, become a member or make a donation.

Hope to see you soon!