There are a few things in life that I absolutely love. Two things that are included in the top of my list are my family...and breakfast food. You can imagine my excitement when I get together with my family over breakfast or brunch. Birthdays are always a time when my family will all get together, and one of our favorite go-to spots to gather for a good breakfast is Stockholm Inn.
We've been going to Stockholm Inn at least a few times a year for as long as I can remember. The latest trip was just a few days ago. The whole family enjoys going to Stockholm Inn because no matter what you're hungry for, there is guaranteed to be something on the menu that you enjoy. If you're a pancake person, they have their famous (and scrumptious!) Swedish pancakes. If you're more into the traditional eggs and bacon combo for breakfast, they have several options for eggs cooked in any way with all the standard sides. And if you're feeling something a little different the day you go, they have specialty items like quiches, eggs Benedict, or French toast. Just make sure at some point when you go, order a side of lingonberries. These sweet yet tart berries are great on the Swedish pancakes, or also by themselves! We found out that my little nephew (who can be a little picky with what he eats) LOVES lingonberries!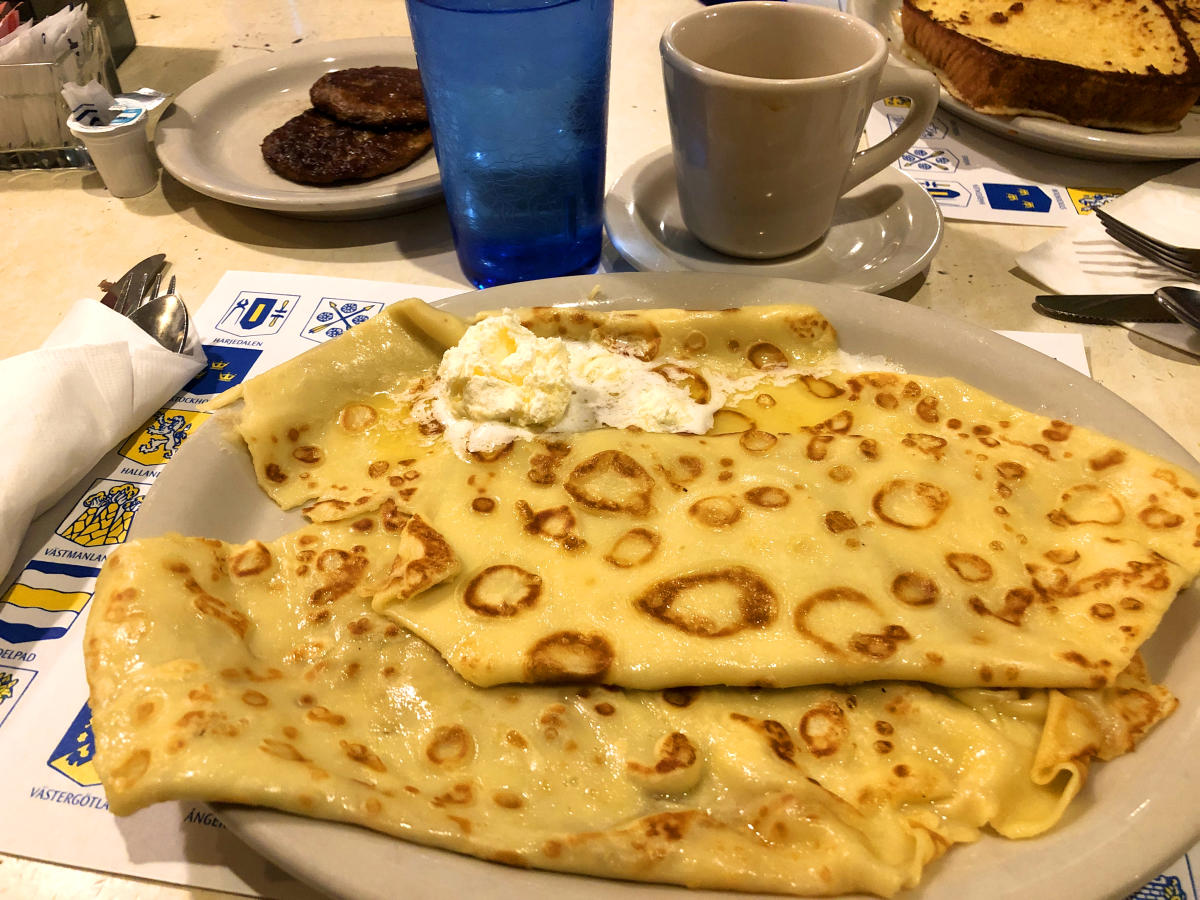 I have a couple different go-to items when it comes to Stockholm Inn. Depending on what I'm feeling the day I order, I usually go with the Swedish pancakes. Or I go for the classic breakfast of scrambled eggs with bacon, hash browns and toast. I can't really give any advice about what to order that isn't breakfast food because I don't think I've ever ordered anything other than breakfast food! (Why would you want to eat anything other than breakfast food in the first place??) But I can tell you no matter what you order from the breakfast menu, you're sure to enjoy it. Try supplementing your breakfast with a glass of their fresh-squeezed orange juice as well!
What I also like about Stockholm Inn is the space they provide for eating. They have several large dining areas with tables scattered around if you want the standard restaurant dining vibe. They can have tables to fit your large family (we have over 10 people sometimes!), and there are smaller booths if you and your significant other just want a quick bite. I do enjoy the large dining rooms, but when gathering with my family, we usually try to request one of their private rooms. These rooms also vary in size depending on how many people you have in your party. Our room fit my family perfectly, and there was a door we could close if the dining area seemed too noisy. Our room was sandwiched between a room with a large party of over 60 people for a birthday celebration, and another smaller room with a family with lots of young kids (a great way to keep a quiet environment for little ones)...so no matter how many people in your group, there will be space for you!
Next time you're looking for a good gathering place for your family or friends and are hungry for some delicious breakfast food, look no further than the Rockford staple, Stockholm Inn!