As the RACVB celebrates National Travel & Tourism Week (May 5 - 11, 2019), we ponder what makes Rockford an ideal place to travel for visitors. The answer? We have fantastic attractions, restaurants, and events! Take a look at some of the highlights and let us know what YOUR favorite spot in the Rockford region is!
Where to Take Mom (and the family) for Mother's Day
Mother's Day is fast approaching (hint, hint!). Travel matters to moms, and sometimes her joy comes from something as simple as a fun day right in your own "backyard," so to speak. Treat your mom with a special local excursion to celebrate her special day on Sunday, May 12!
The Adventure Awaits
Travel matters in Rockford to those seeking adventure! If you're a Rockfordian who loves the rush of adrenaline, look no further than these exciting Rockford attractions!
West Rock Wake Park - This wake board park for adventurers accommodates all ages and levels from beginner to advanced wake boarders, individuals to groups...and people travel to Rockford from all over the Midwest to do it! Shouldn't you give it a try?
Magic Waters Waterpark - Magic Waters is now a Six Flags park, complete with 11 heart-pounding water slides, the largest wave pool in Illinois, and several children's splash and play zones. Cool for the adventure junkie in all of us!
Zip Rockford - You won't forget this experience right here in Rockford at Alpine Hills Park! Check out the daring zip line options open to all ages with a minimum height of 42 inches. Open to the public, for birthday parties, special events, corporate events and more!
Rock Cut State Park - Fishing, boating, camping, paddle boats, canoe rental, horse and bike trails...that's just the start of what awaits you within this beautiful Illinois state park featuring 3,092 acres and two lakes!
Rockford Speedway - This spot is perfect to watch high speed action! The Speedway is one of only two NASCAR-sanctioned tracks in Illinois. Their quarter-mile oval hosts crazily entertaining demolition derbies and other specially-themed events throughout the year.
Ice Cream Matters...to Everyone!
Travel matters to ice cream lovers who are willing to go the extra mile for a sweet and cold delight! Luckily, you don't have to travel far to find spectacular local ice cream treats in Northern Illinois. We challenge you to try all of these delectable destinations before summer is done!
Bing's Drive-In (Rockford)
Dairy Depot (Loves Park)
Dairyhaus (Rockton)
Union Dairy (Freeport)
Zammuto's (Rockford)
Just Between Friends
Travel matters to friends who enjoy spending time together...and it's best when you don't have to waste time traveling out of town to do it! Hang out in the Rockford region at these fun, FRIENDly events!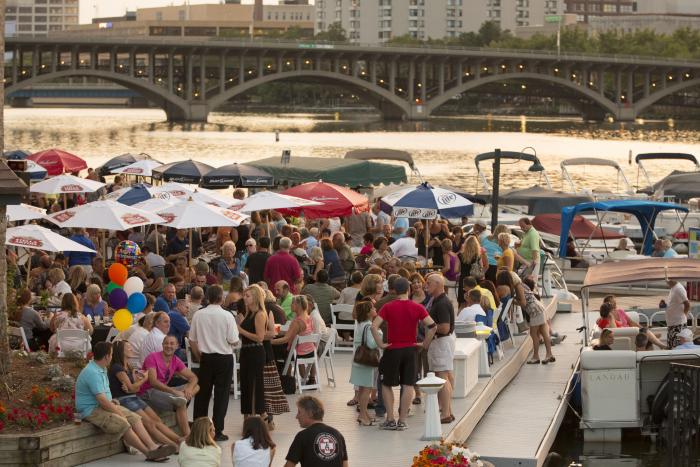 Prairie Street Brewing Co. - Check out their newly-launched summer menu, plus the ever-popular Dinner on the Dock event series starts on Thursday, May 16 with the band Trash 80's!
Shop Downtown - With 20+ stores downtown and more opening soon, there are more reasons than ever to shop downtown Rockford!
Beattie Is Back - Arts Festival - Mark your calendar now for Saturday, September 8. The event features a high-quality artist market, interactive public art, art demonstrations, on-stage performances and specialty food vendors.
2019 River District 12 Bike Tour - Set for June 22 in the River District of Rockford, this 4.5-mile loop includes 5 main checkpoints and the chance to win prizes! Enjoy the scenic downtown on two wheels!
Date Night in Rockford
Travel matters if you're looking for quality couple time! Tired of the same old weekend plans? Change it up and try these fun date night ideas!
Forest City Float - Are you looking for a way to relax together? Try the newest trend in Northern Illinois - floatation pods! Floating is said to reduce anxiety and muscle tension while increasing relaxation. Jump in at Forest City Float in downtown Rockford!
Rockford Culture Crawl - Enjoy learning about the region's culture at multiple locations throughout the city! Midway Village Museum features live music by Miles Nielsen and the Rusted Heart band, local food vendors serving a variety of dishes, plus a compilation of cultural organizations. Bring a lawn chair or blanket and check it out!
Rockford City Market - The market kicks off their 10th season on Friday, May 17 and runs every Friday evening in downtown Rockford through September 27. NEW this year: venture inside the new Indoor Market space, visit guest bartenders in August, and get a punch card to track your visits to the Market to win prizes!
Miracle Mile Cruise & Car Show - On Saturday, May 26, start your morning at 8:30 a.m. at the Rockford Speedway and take a couple of laps around the race track. Participate in the burn-out contest at 10 a.m! At Noon, cruise to Don Carter Lanes on the Miracle Mile for a car show and other special events and prizes.
Starlight Theatre - The perfect place for multiple date nights! This summer's show line-up includes "Mamma Mia," "West Side Story," "Addams Family," "Joseph and the Amazing Technicolor Dreamcoat," and "Madagascar." Community actors appearing on this beautiful outdoor stage have gone on to appear on Broadway and in Hollywood. You might see a future star at Starlight this summer!
What is YOUR favorite destination in the Rockford region? Is it an entertainment venue, restaurant, or outdoor adventure spot? The Rockford region has it all!