Embassy Suites by Hilton Rockford & The Rockford Conference Center
OPENING APRIL 2020
431 S. Main Street, Rockford IL 61101
Overview
The historic renovation of the 104-year-old factory building, built by William Ziock Jr. for his textile businesses, has started and is expected to open as the new Embassy Suites by Hilton hotel in April of 2020.
Work is in progress on the 13-story abandoned factory that Gorman & Company is turning into a 160-suite hotel and conference center. It will feature restaurants, a swimming pool, a business center, a restaurant and patio along with a top floor outdoor restaurant/lounge. In addition to the hotel, there will also be a 13,000 sq.ft. conference center adjacent to the new hotel.  The conference center will host meetings, weddings, reunions, training sessions, symposiums, conferences, etc…. for up to 500 people.
Once what was an old factory is soon to be the new Embassy Suites by Hilton Rockford and the Rockford Conference Center.  The hotel will be the largest and most historic hotel in downtown Rockford, Illinois.
Download an informational flyer here.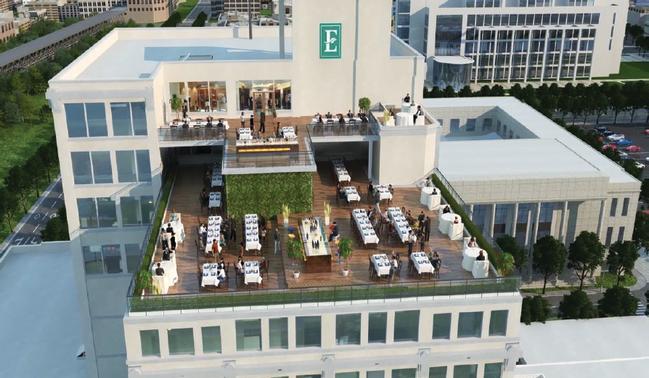 Hotel Amenities and Features
160 spacious guest suites
Restaurant and bar featuring an outdoor patio along the Rock River
12th floor cocktail lounge featuring a seasonal rooftop deck 
Embassy Suites complimentary breakfast
Swimming pool & fitness center
Digital key check-in
Business center
Full-service spa
Gift shop
State-of-the-art game room
Spacious atrium with soft seating featuring a view of the river
HHonors guest rewards
For information about the facility, contact Steve Morgan, Embassy Suites Regional Director of Sales - smorgan@gormanusa.com
To inquire about booking a conference or event at the facility, contact Bethany Bohn, Embassy Suites Sales Manager - bethany.bohn@hilton.com