City of Gardens
Day 1 >>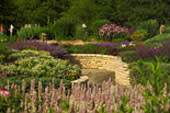 Day 2 >>

Springtime! The perfect time to see the City of Gardens in Rockford, Illinois.

Rockford was selected in 2007 as the winner of the America in Bloom Award for Cities 100,000 to 300,000! You'll be surprised and pleased to see the great array of wonderful gardens, both public and private, during your stay with us. Springtime is the perfect time to enjoy the flowers, fragrance and fun! 
NEIGHBORHOOD GARDEN TOUR
---
DAY ONE
---
Pick up your guide and get started with a tour of several lovely neighborhood gardens. Because there are so many, we'll work with you to choose ones that will be most enjoyable for your group. 
ANDERSON JAPANESE GARDENS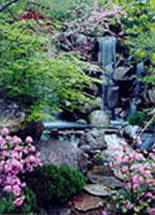 You'll be awe-struck by the natural beauty and serenity of world-renowned Anderson Japanese Gardens, ranked the top Japanese Garden in North America. Take time to explore this "pond–strolling" style garden. Featured onVictory Garden and rated as "one of the most authentic Japanese Gardens outside of Japan" by Roth's Journal of Japanese Gardens, these 12 acres of gardens include waterfalls, ponds, stone lanterns, coin basins and examples of Japanese carpentry. Benches are located throughout the garden for rest and quiet reflection.
LUNCH - CLIIFFBREAKERS RIVERVIEW RESTAURANT
For lunch, more beautiful scenic views are in store for your group as they dine in one of Rockford's finest restaurants, Cliffbreakers. Nestled over the Rock River, Cliffbreakers offers great food, wonderful scenic views and a beautifully decorated interior to enhance the experience. 
KLEHM ARBORETUM & BOTANICAL GARDENS
Continue to explore different countries as you visit the 150 acres of magnificent trees and plants from around the world at Rockford's secret garden, Klehm Arboretum & Botanic Garden. Spring is the perfect time to visit as hundreds of blooming crabapples and magnolias, lilacs, tulips, daffodils and more welcome your group. Whether you choose a guided or a self-guided tour, there is something for everyone to enjoy: hundreds of species of trees and plants, along with many demonstration gardens including a butterfly garden, a hosta garden, an iris garden and many more. After your tour of the gardens, make sure to stop in the wonderful gift shop, a favorite place to shop for unusual gifts and garden ideas. 
HOTEL CHECK IN! 
Unpack and relax at the hotel of your choice. 
MIKE WILLIAMSON PRODUCTIONS 
Now is the time to enjoy a private show for groups of 40 or more with Mike Williamson & Friends. Indulge in a sit-down dinner and enjoy "One More for the Road," a fun-filled musical tribute from big band to country and with a "Monkeys" thrown in for good measure. Mike and company have been entertaining groups for years and are looking forward to monkeyin' around with you. Cost: $35.95 to $39.95 pp inclusive for dinner shows depending on entrée – 2 comp with 40 paid. 
---
DAY TWO
---
STOCKHOLM INN – BREAKFAST 
Start the day with some of Rockford's Scandinavian heritage and a plate of delicious Swedish pancakes. It's all at the Stockholm Inn, where every meal is made from scratch and everyone leaves with a smile on their face. Costs range from $5 - $10 pp. 
NICHOLAS CONSERVATORY & GARDENS, SINNISSIPPI GARDENS & RECREATION TRAIL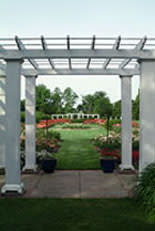 Next you'll be driven to the cheerful riverside garden spot, Nicholas Conservatory & Gardens with an 11,000 square foot exhibition area with water features, seating areas and sculptures in a tropical setting, and Sinnissippi Gardens, whose attractions include an annual garden meticulously planted with colorful bedding plants, a floral clock planted each year with thousands of annuals and an accredited rose garden. All this is adjacent to a beautiful 10-mile walking path along the Rock River. Benches line the path so you can walk as much or as little as you'd like. No charge, allow 1-1/2 – 2 hours 
LUNCH 
NATURAL LAND GARDEN – MIDWAY VILLAGE MUSEUM  
Stretch your legs with a walk through the Natural Land Garden at Midway Village Museum. This fascinating replication of the native grasses and plants found when the settlers arrived in the upper Midwest will not only be interesting but is lovely to view. While you're their, enjoy any of the many permanent and traveling exhibits at the museum including the "Socks, Monkeys and Rockford's Industrial Past" exhibit. Costs: $5 pp for groups of 20 or more, $3 for ages 3-17 (Allow 1-1/2 – 2 hours; Escorts and drivers are complimentary) 
POETRY GARDEN (Beloit, WI)
The Poetry Garden is located on the campus of Beloit College (the oldest college in continuous service in the state of Wisconsin). Designed by world-famous public artist Siah Armajani, the garden features specially designed benches and tables among beautiful flowers. In the spring there are hundreds of flowering tulips lining the paths of the 14,000-square-foot garden. You and your group will be able to relax and renew your souls. A wonderful 'potted' lunch, complete with a seed packet, will greet your guests. 
ANGEL MUSEUM (Beloit, WI)
With more than 7,500 angels on display, the Angel Museum is considered the largest privately-held angel collection in the US, possibly in the world. The museum also includes over 500 angels donated from Oprah Winfrey's private collection. 

Click HERE to go to Visit Beloit.

Depart for home or stay another night and monkey around at our other great attractions. Additional stops might include: