To-Go Rockford Region Restaurant Week
Indoor Dining Resumes Jan. 18 in Winnebago County - Click for Tier 1 Mitigations
Welcome to To-Go Rockford Region Restaurant Week - January 18-24, presented in partnership with the City of Rockford! During Restaurant Week, please buy local from your favorite restaurants, brewers, spirits and wine makers and retailers. We have flavorful specials for all palettes, contests and giveaways, and the opportunity to safely (order to-go!) help our small businesses navigate this challenging time.
Restaurant Week Overview
WHEN: Monday-Sunday, January 18-24, 2021 (participating business hours vary)
WHERE: Participating restaurants, bars, bakeries and cafes in the Rockford region. 
INDOOR DINING: As of Monday, January 18, Region 1 (which includes Winnebago County) has met the metrics to move to Tier 1 mitigations, allowing for indoor dining service limited to the lesser of 25 guests or 25% capacity per room. For complete details on Tier 1 Resurgence Mitigations, click HERE.
$500 PRIZE: When you buy from local restaurants during Restaurant Week, save your receipts for the chance to win a $500 gift card to your favorite local restaurant. Email pictures of your local restaurant receipts to Info@GoRockford.com by January 24 to enter. For more details, click HERE.
BE A "ROCKFOODIAN": Purchase the limited-edition To-Go Rockford Restaurant Week "RockFoodian" T-shirt HERE for only $25. For every T-shirt sold, $10 will be donated to support the Winnebago County Restaurant Workers' Relief Fund set up by the YWCA Northwestern Illinois. Special thanks to Rockford Art Deli for its support!
SUBMIT A SPECIAL: All local area businesses (food and beverage establishments, retailers and attractions) interested in participating and submitting a special should email Info@GoRockford.com by January 17. Participation is subject to change based on recommendations from health department officials.
SPECIAL THANKS: RACVB would like to extend a special thanks to City of Rockford as the presenting sponsor of 2021 To-Go Rockford Region Restaurant Week. In addition, RACVB thanks WREX Channel 13 for supporting as the event's media partner.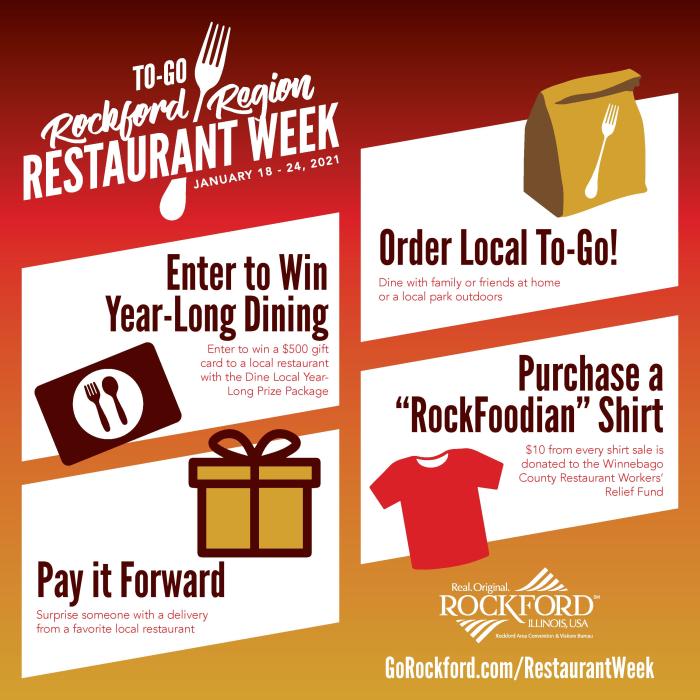 Presenting Sponsor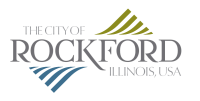 Media Partner