Artists
CRE8IV: transformational ART highlights eight lead artists creating nine large-scale murals in downtown Rockford. Each artist will be assisted by a team of artists to complete the mural.
For more information on CRE8IV 2019 and future mural projects, contact Kristen Paul, Director of Destination Development, at 815.489.1661 or kpaul@gorockford.com.
Jump to artist: Yulia Avgustinovich  |  Corey Barksdale  |  Lisa & Libbie Frost  | 
Jenny Mathews  |  Chris Silva  |  Jenny Roesel Ustick  |  Brett Whitacre  |  Molly Z
2019 Artists
Yulia Avgustinovich (Denver)
 
Yulia was born and grew up in Baranovichi, a small town in Belarus. At the age of 16, Yulia went to Minsk and studied art in college receiving a degree in classic painting and teaching art. She started her career as a muralist in 2002 and completed her first outdoor mural in 2008 in St. Petersburg, Russia. Yulia states, "After accomplishing my first public art projects and wall murals, the feeling of fulfillment and the amazing feedback I received from the public confirmed that I was on the right path."
Mural Location: The Symbols
316 W. State Street
Mural Location: Davis Park
320 S. Wyman Street 
Artist website
Corey Barksdale (Atlanta)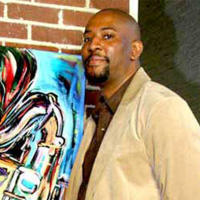 Artist Corey Barksdale's projects have touched the hearts of all those that have come across them. Every piece of his artwork connects with the body, mind and soul. Corey's resume includes a current project for the Smithsonian National Museum of African American History and Culture in Washington DC, and numerous projects for television. Corey states, "My vision as an Atlanta artist is to connect more on a more personal level with my fans and audience with the best of creative art works."
Mural Location: Urban Equities
114 N. 1st Street (visible from 324 E. State Street)
Artist website
Lisa & Libbie Frost (Rockford)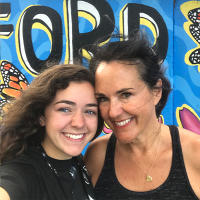 Nationally recognized artist Lisa Frost's mission is to spread cheer throughout the land. Lisa is the owner of Lisa Frost Studio, located in Rockford, Illinois. As a native and current resident, she is dedicated to her art and giving back to her community. Libbie is 18 years old and a senior at Boylan Catholic High School. She plans on pursuing college in business and an art related field.
Mural Location: Lower Jefferson Street (east side of Rock River)
299 N. Madison Street
Artist website
Jenny Mathews (Rockford)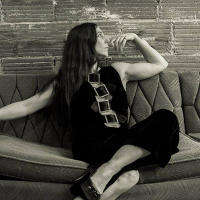 Jenny is a visual artist from Rockford, IL, who specializes in everything from tiny watercolor illustrations to big acrylic murals. Jenny's prolific style allows her to obsess and work on extensive series of small things as well as large-scale singular pieces. Her work has been on display at the Rockford Art Museum and can currently be seen at the Discovery Center Museum in Rockford, IL. Her small illustrations are published in many children's books, both fiction and non-fiction.
Mural Location: Wired Cafe Alley
416 E. State Street
Artist Instagram
Chris Silva (Chicago)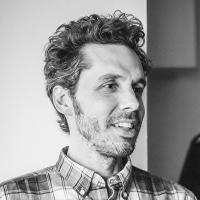 Though born in Puerto Rico, Chris' creative pursuits are firmly rooted in Chicago's urban culture. Chris was an innovative figure in Chicago's graffiti and skateboarding scenes and from that foundation proceeded to play a significant role in the development of what is now commonly referred to as "street art." Chris splits his time between working on large-scale commissions, producing gallery-oriented work, and leading youth-involved public art projects.
Mural Location: Rockford Orthopedic Appliance
422 E. State Street
Artist website
Jenny Roesel Ustick & Atalie Gagnet (Cincinnati)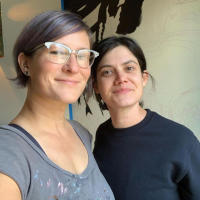 Jenny is Assistant Professor of Practice and Foundations Coordinator in the School of Art at the University of Cincinnati, College of Design, Architecture, Art & Planning. She manages large-scale public murals, with eleven walls completed in Cincinnati and Northern Kentucky. She has also worked on projects in Miami Beach, Florida and in the Villa Crespo neighborhood of Buenos Aires, Argentina.
Mural Location: Chocolat by Daniel
211 E. State Street
Jenny website  |  Atalie website
Brett Whitacre (Sycamore)
Brett is a self-taught American artist living and working in Northern Illinois. His art is inspired by a mix of vintage and modern advertising as well as American history. Upon moving to Chicago in 2000, he began collecting otherwise discarded materials from alleyways. He applies his imagery to the found objects juxtaposing old and new. The end result of his work tends to have a strong modern feel contrasted with a rustic warmth.
Mural Location: Rockford MakerSpace
203 N. Church Street
Artist website
Molly Z (Chicago)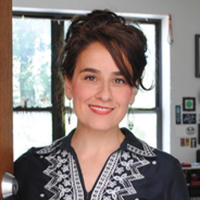 Molly has worked many years as a finely detailed illustrator, contracting with agencies, product manufacturers and many different clients, always looking for a way to make beautiful art that affects our daily lives. She has created many large-scale works of art, public art for museums, schools, and businesses and has produced live art murals for major industry conferences and special events.
Mural Location: Lucette Holistic Salon and Boutique
508 E. State Street
Artist website
2018 Artists
Kelsey Montague
Kelsey is an artist very interested in exploring how public art, interactive art and social media intersect. Her murals specifically invite people into a piece and then invite people to share their experience online. She believes that art should not be separated from the human experience. Instead the human experience should have a hand in creating the art itself. After studying art in Florence, and graduating from Richmond University in London with a degree in Art, Design & Media, Kelsey spent 4 years in NYC – embracing and battling the Big Apple while developing her pen & ink style.
Mural Location: Eddie Green Place
331 E. State Street
Artist website
Justus Roe
Justus Roe works in a variety of visual mediums including canvas painting, large scale wall paintings / murals and sculptural installations. His work references architecture, city grid systems, and landscapes. His stylized forms, mark making and color palette develop work that is at once reminiscent of aerial perspectives and metropolitan environments.
Mural Location: I90 gateway
542 N. Lyford Road
Mural Location: 6th Street Abatement Wall
Near 6th Street & Chamberlain Street in downtown Rockford
Artist website