Stroll On State Parking
On-street parking, parking decks and surface parking lots will be available as posted. There also will be three Remote Parking Lots with free shuttle bus transportation, sponsored by Rockford Mass Transit District, at three locations:
YMCA (200 Y Boulevard) (handicapped accessible paratransit buses are available)
Forest City Church (1280 S. Alpine Road)
Crusader Clinic (1200 W. State Street)
Shuttle buses will run continuously every 10 minutes from each location starting at 1:30 p.m. The last shuttles leave the Stroll on State grounds for the final drop offs at 9:30 p.m.
RMTD will also run five of its night routes this year during Stroll on State; #31, #32, #33, #34, #35. Service will start at 6:15 p.m., November 27.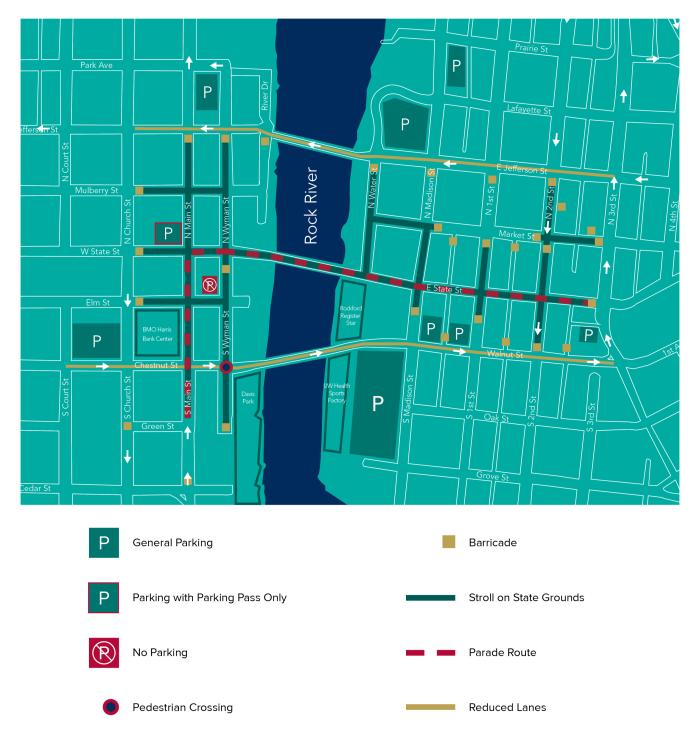 Download the 2021 Parking Map here.
Additional Transportation Options
Bird Scooters will be available in the festival footprint in addition to their designated downtown zone which is bounded by Auburn Street, Central Avenue, Morgan Street and Third Street. They will be slowed down to 1-2 miles per hour in festival area to keep riders and guests safe.