Stroll On State Events & Attractions

Stroll on State 2022 Timeline
MORE INFO COMING SOON!
---
Jump to Event
Parade  |  Tree Lighting Ceremonies  |  Fireworks  | 
Santa Visits  |  Davis Park  |  Horse & Wagon Rides  | 
Letters to Santa  |  Ice Sculpting and Fire & Ice  | 
Ice Skating  |  Live Performances  |  Blitzen's Ball  | 
Food & Drink  |  Social Media
---
Stroll on State Parade
Stroll on State's Holiday Parade, sponsored by The Power Connection – IBEW 364 & NECA steps off on S. Main Street at Chestnut Street at 2 p.m. and will move north to State Street then east across the State Street Bridge, ending at 3rd Street. Parade onlookers are encouraged to find a spot along the route starting at 1 p.m. The parade will feature large-scale holiday-themed and character balloons, festive floats, live music DJs, and a few extra surprises are expected – including Santa & Mrs. Claus' official arrival in Rockford for the holidays.
Tree Lighting Ceremonies
The tradition continues!  Stay tuned for additional information on timing, performers and more!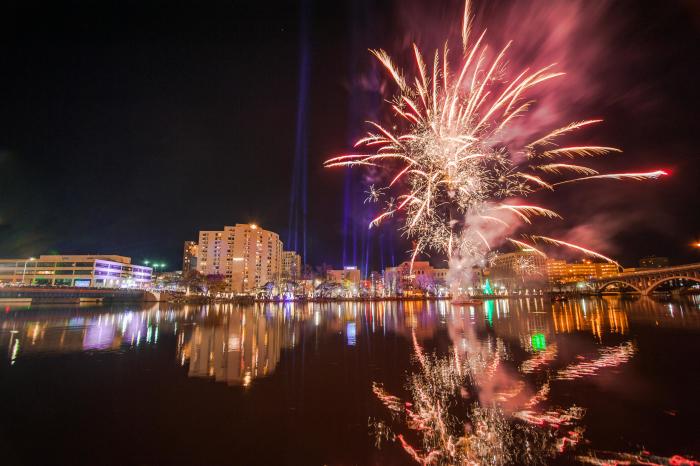 Fireworks 
Sky Lights Fireworks, presented by Pierce Distribution, will once again light up the skies of downtown Rockford except this time they will be launched from the Jefferson Street Bridge at 8 p.m. Viewers will be able to see the fireworks from anywhere in the festival if they can see the Jefferson Street Bridge. This change will allow for more spacing while the skies burst with color.
Santa Visits
Santa Claus had so much fun in 2021 that he requested to do the same this year!  Santa will explore the grounds of Stroll on State and pop up all over the festival throughout the day.  He plans to see kids during story time readings at the stages, while riding in the parade, and he may even be seen serving hot chocolate and s'mores, visiting his reindeer and riding a Zamboni.
Horse & Wagon Rides
Horse & Wagon Rides, sponsored by Amazon, returns!  Check back for more information on pick up locations and route!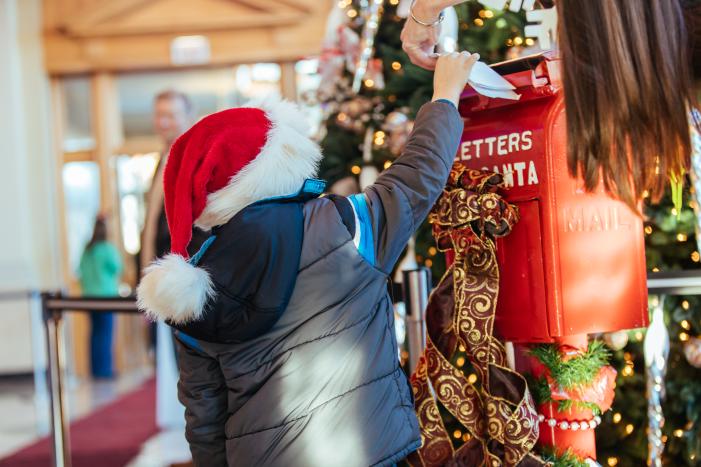 Letters to Santa
During Stroll, your favorite group of elves will be back at Rockford City Hall to collect letters and give them to Santa! Sponsored by FurstStaffing, kids can write a letter to Santa, decorate the paper and mail it on-site to the North Pole. In addition to inside City Hall, there will also be three outside locations throughout the festival to mail your letter to Santa. Those locations can be found outside City Hall, near the Eddie Green Tree and at JS Social Café.
Fire & Ice
The popular Fire & Ice, will wow crowds again as blocks of ice dissolve into beautiful bonfires that create an enchanting display at the corner of East State Street and N. 2nd Street, as well as outside of Veterans Memorial Hall.
Ice Skating
Take a break from strolling the grounds and lace up some ice skates at the BMO Harris Bank Center – on the IceHogs' home ice rink – put on by the Rockford Park District and the Rockford IceHogs. Ice skates available free of charge. Additionally, there will be street hockey provided by the Chicago Blackhawks Foundation along with family-friendly activities powered by the Rockford Park District in the lot outside of the BMO Harris Bank Center.
Live Performances
Live music is BACK, and we're so excited to feature the tremendous talent of our local artists and a few others playing their favorite holiday music at this year's Stroll on State. With many stages to choose from, you'll have several opportunities to catch a band or two while taking in the sights and celebrating the season. Santa will be making a special appearance at each stage, along with special guests and live musical performances. Live music will begin at 2pm and conclude at 9pm.
Blitzen's Ball - Princess & Superhero Dance Party
From princesses to heroes and everything in between this dance party is produced by Forest City Fairytale Company and will take place inside the historic 4-story glass tower at Iconic Energy!  This can't miss activity encourages everyone to put on their dancing shoes and make memories throughout the day (2 – 9 p.m.) at this reimagined Stroll event.
Food & Drink
Two Holiday Markets will host local retail and food vendors and are sponsored by the Chicago Blackhawks Foundation. S'mores stations will be set up in four locations. Whether you just took off the ice skates or are watching a holiday movie, Stroll grill masters will grill these tasty treats all night.  Hot Chocolate is available at locations on both sides of the river.  Adults can enjoy a tasty beverage from any of the Stoll on State Bars.
Social Media
Engage with us on GoRockford social channels and the Stroll on State Facebook page. Post your favorite photos from Stroll on State, your decorated home, your businesses, and your neighborhood to spark community pride. Be sure to use our custom Stroll on State Snapchat filter. Follow the GoRockford and Stroll on State Facebook pages today and watch for more updates!