Stroll On State Events & Attractions

This year, Stroll on State Presents A Merry & Bright Holiday Season from Saturday, November 28-Thursday, December 24, completed with a variety of at-home and virtual events. CLICK HERE to download A Merry & Bright Holiday Go Guide, the official planner for supporting local and celebrating responsibly this holiday season.
Stroll on State Presents A Merry & Bright Holiday Special

Watch the Stroll on State Presents A Merry & Bright Holiday Special, Davis Park Tree Lighting and Fireworks Celebration as a primary way to enjoy the Stroll experience over a televised special on Channel 13 WREX from 6-7 p.m. Saturday, November 28, the night of Stroll on State. A co-production of RACVB, Heartland Community Church and Channel 13 WREX, this television event will feature holiday-themed feature stories and a variety of special guest appearances, culminating with a countdown to the tree lighting and an accompanying fireworks celebration around the region.
We invite local families to spend their Stroll day decorating their homes and trees for the holidays, and then gather together at 6 p.m. to watch the televised special program where together, as a community, we can all count down and light our own trees and the City's tree at the same time. And, then, we'll be launching fireworks from five locations throughout the area so residents can enjoy the festivities from the comforts of their homes and neighborhoods!
Support Local!

Enhancing civic pride and helping to spark economic development embodies the essence of Stroll on State's creation in 2013, and there may be no better time or bigger moment than now for our community to help small businesses. Join us throughout the Merry & Bright season by shopping at local boutiques and galleries, dining out responsibly or ordering to-go at your favorite local restaurants or bar, and sharing the important message of taking care of our own.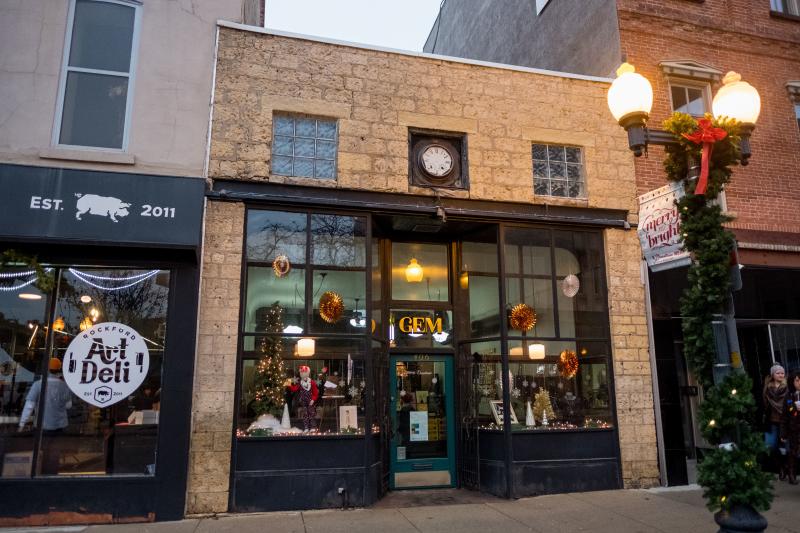 Dasher Dash At-Home 5K

Fleet Feet Rockford and the RACVB are excited to bring back the Stroll on State Dasher Dash At-Home 5K! Due to COVID-19 restrictions, this year's race is an at-home edition that gives each participant the flexibility to complete the run anytime between November 28-December 24, compete for hometown pride and make your run/walk a bit more festive and fun by using the RACE JOY app FREE for the Dasher Dash. Those planning to be out of town can also participate, and packets can be mailed out for an additional fee. Sign up today here!
Virtual Visits with Santa

In partnership with Luxe Productions and Butitta Brothers Automotive, we are thrilled to offer free Virtual Visits with Santa on three straight Sundays from 1-6 p.m. CT: December 6, December 13 and December 20. Registration for each week's three-minute Visits will be available midday on each preceding Tuesday (December 1, 8 and 15). Register at the Virtual Visits link in above!
Letters to Santa

For those who cannot make it to see Santa in-person, Letters to Santa returns thanks to FurstStaffing & FurstProfessionals and has been expanded to include six drop-off locations around the region. Download a PDF of your Letter to Santa HERE! To ensure you get a response from Santa, drop your letters off at any of the below locations between Saturday, November 28, and Monday, December 7:
FurstStaffing, 2580 Charles Street, Rockford
Rockford City Hall, 425 E. State Street (north side of building), Rockford
Davis Park, Chestnut & Wyman Streets by the City Tree, Rockford
Janenes Event Design Studio Social Café, 607 West State Street, Studio B, Rockford
Illinois Bank & Trust, 4571 Guilford Road, Rockford, OR 308 West State Street, Rockford
DOWNLOAD THE LETTER TO SANTA TEMPLATE HERE
Decorations
Decorations will be bigger and brighter this year, featuring Davis Park as another focal point of downtown décor and the new home of the official City Tree. The Tree's new location will be on the north lawn of Davis Park, where memories will be made and captured as part of a holiday backdrop that also adorns RACVB's new ROCKFORD letters. Be sure to also head north to check out the River District Tree, walk along State Street to the Eddie Green Tree, take in all of the downtown lights and décor, and shop and eat local as you stroll and support the community at your own leisure. And while Stroll on State helps us to officially kick off Small Business Saturday annually, please join us in revisiting your favorite shops, eateries and small businesses throughout the Merry & Bright season!
Social Media
Engage with us on GoRockford social channels and the Stroll on State Facebook page, where we will feature opportunities for the community to come together virtually to celebration the season—and win some fun prizes along the way! Decorate your businesses, homes and neighborhoods to spark and compete for community pride and get ready to engage via your favorite social channels. Follow the GoRockford and Stroll on State Facebook pages today and watch for more updates!