Now that summer is in full swing, everyone in Rockford is itching to get outside and enjoy the warm weather! After a long and brutal winter this year, we are even more thankful for the sunshine. If you haven't already, add some of these restaurants to your foodie bucket list and make sure to check them out this summer or fall!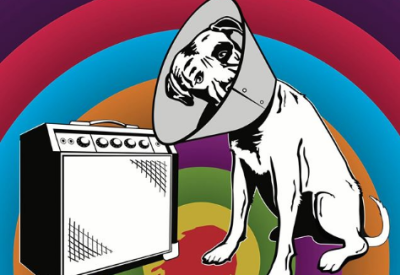 Olympic Tavern has a wonderful outdoor patio year-round, but once it finally gets warm enough to enjoy the outdoor dining, they invite your four-legged friends too! Every Monday after 4pm until November 4th, Olympic Tavern has Pints for Pups. The Olympic Tavern will donate part of the proceeds from Lagunitas beer sales to local dog charity. Also, Lagunitas Brewing Co will MATCH the donation at the end of the season. If you haven't attended already, make sure this event is on your list of things to do. Who doesn't love to enjoy dinner outside with your friends AND furry friends all while donating to a good cause!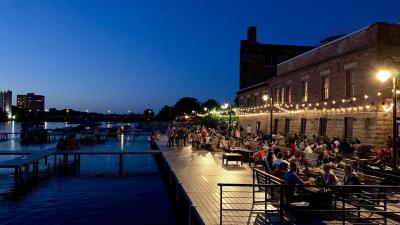 As a popular brewery downtown, Prairie Street Brewhouse proves that they go above and beyond. Winning the Business is Blooming award for Outdoor Dining in 2017, there's no question that their dock in the perfect place to grab a bite to eat. While you can sit outside any day of the week, Mondays and Thursdays are especially unique. Dockside LIVE is a recurring event on Mondays 6 - 9 p.m. where you can listen to local and regional artists. Dinner on the Dock occurs weekly on Thursdays from 5 - 10 p.m. The 2019 Dinner on the Dock music series offers guests great food, craft beer, and some of the best musical acts from Rockford and the surrounding areas of Chicago, Madison and more. Come to Prairie Street any night of the week to enjoy the beauty of Rockford!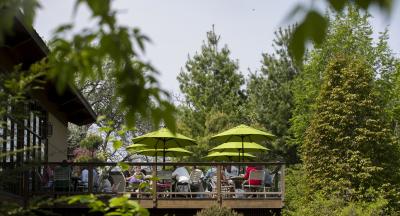 With Anderson Japanese Gardens winning the 2018 Business is Blooming award for Public Gardens, Fresco at the Gardens is guaranteed to have a breathtaking view. Serving breakfast and lunch year-round, this restaurant offers unique culinary meals as well as a Java Lounge that features handcrafted coffee, freshly squeezed juice creations, and quick snacks to grab too. Fresco prides themselves on sourcing local ingredients in order to create their fresh and organic menu. After enjoying a meal, feel free to stay and explore the beautiful Anderson Japanese Gardens that has been a Rockford destination for years. With a fresh menu and a fresh view, Fresco at the Gardens deserves a top spot on anyone's foodie bucket list!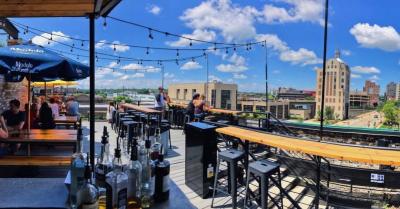 Taco Betty's
Serving up delicious tacos and specialty cocktails, Taco Betty's is a favorite of mine regardless. BUT the views from their rooftop are absolutely stunning. Positioned in downtown Rockford, you can enjoy the food and views all summer long. Tuesdays may be one of the best nights of the week to visit with "Rooftop Trivia" beginning at 6:00 p.m. along with $2 select tacos and $5 house margaritas being sold all day long! If live music is your favorite, you may want to stop by on a Sunday for their series of "Rooftop Live" or Wednesday for "Sun Set" featuring various local artists. 
Rockford has many other great local spots that allow you to dine outside. Check out any of these places next time you'd like to enjoy a good meal AND the sunshine: Abreo, Graystone Grill, Irish Rose Saloon, Lucha Cantina, Octane, Owly Oop Sports Pub, Rathskellar, Rockford Roasting Co, Sisters Thai Cafe, Stone Eagle, Tavern on Clark, Thunder Bay Grille, Woodfire.