Bring Your Game 2 RKFD
Our Facilities Build Champions
Rockford has been a pioneering sports town since the mid-1980s. Decade after decade, we've set the Midwestern standard for hosting sports tournaments with excellence, convenience and success.
And we never stop working to get better. Just in the past year, the Rockford region has opened the state-of-the-art UW Health Sports Factory designed for championship caliber basketball, volleyball and much more with its 105,000 square feet of competition space. Across town, our Mercyhealth Sportscore Two complex has added turf and natural grass fields and the all-new "mega" indoor sports complex designed for everything from soccer to Ultimate to football.
There is a reason why we received the NASC Sports Organization of the Year Award in 2016. But, as you can see, we aren't resting on our laurels. We're ready to raise our game to new heights. Are you ready to BRING YOUR GAME 2 ROCKFORD?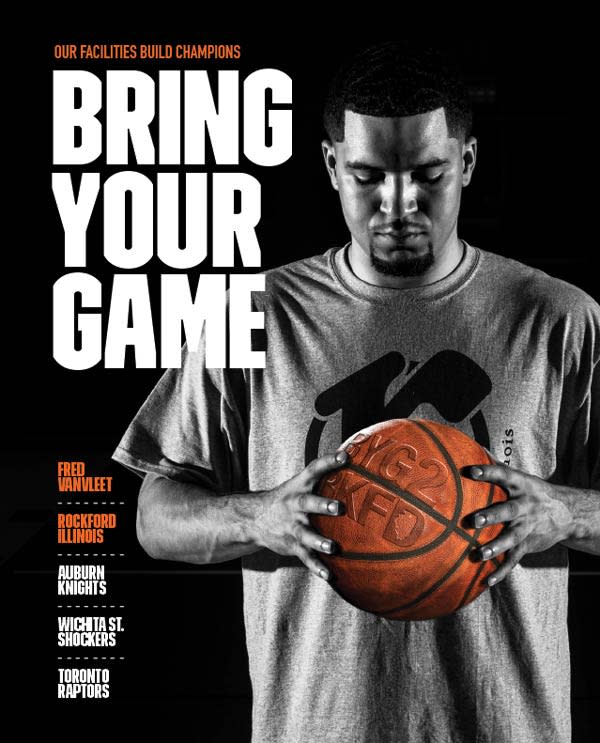 Rockford offers outstanding accessibility, affordability and adaptability as your next tournament host. Among the region's many outstanding sports venues, Mercyhealth Sportscore One and Mercyhealth Sportscore Two are nationally recognized for hosting soccer, softball, lacrosse, Ultimate Frisbee and rugby tournaments and more.
Additional unique venues in the Rockford region include the wide-body Rock River for water sports and one of three brand new high school field houses, including the Auburn High School Field House, which has full indoor track and field capabilities.
Best-in-class facilities are matched by our servicing capabilities, both of which aided Rockford in being named Sportstown USA by Sports Illustrated.
EVENTS RECENTLY HOSTED
Illinois High School Association Girls State Bowling Championships
Illinois Kids Wrestling Federation State Finals
USA Ultimate National Championships
Rugby Illinois High School and Middle School State Championships
USA Rugby Midwest Challenge Cup
USA Water Ski/NSSA Division I Show Ski Nationals
NXTsports Rock River Cup Lacrosse Tournament
Puma Champions Cup Soccer
WHAT OUR PARTNERS SAY:
"2016 will mark the fourth year that NXTsports will host the Rock River Cup lacrosse tournament and the Rockford Fall Classic at the Mercyhealth Sportscore Two complex in Rockford Illinois. Not only does the complex at Mercyhealth Sportscore Two have everything that a tournament director needs and looks for in a facility, but the staff and the Rockford CVB go above and beyond to make the tournament planning and execution seamless for everyone involved. Rockford is an easily accessible location and offers a lot of amenities that you would expect to find in a larger city, while also offering a small-town friendliness and feel." — Robin Baxter, NXTsports vice president of events
DESTINATION QUICK FACTS:
Total number of hotel rooms in surrounding area: 2,932
Total number of restaurants: approx. 300 locally owned eateries
Total number of venues: 35+
Largest indoor venue: BMO Harris Bank Center
Largest outdoor venue: Mercyhealth Sportscore Two
Name of closest airport: Chicago Rockford International Airport and Chicago O'Hare International Airport