Rockford Peaches
Rockford Peaches Fan Trail
Rockford, IL was home to the Peaches for their twelve-year run as a professional baseball team. Today, you can visit Rockford and get a firsthand experience into the history of this amazing team. Come be A League of Your Own and visit the Rockford Peaches Fan Trail throughout the Rockford region. For more information visit www.GoRockfordPeaches.com.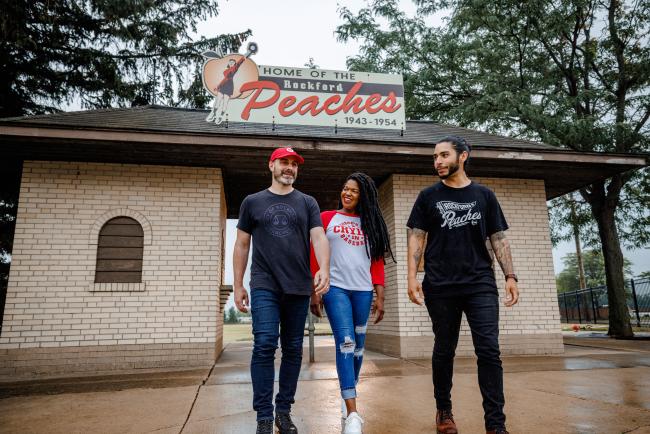 Rockford Peaches History
The Rockford Peaches women's baseball team was founded in 1943 as part of the All-American Girls Professional Baseball League (AAGPBL). The Peaches were a founding member of the league, and called Beyer Stadium in Rockford, Illinois their home. During the time of the AAGPBL, the Rockford Peaches were one of the most successful teams as they won the league championship of 1945, 1948, 1949, and 1950. The Rockford Peaches became immortalized through the 1992 movie A League of Their Own starring Tom Hanks, Geena Davis, Madonna and Rosie O'Donnell. The Peaches continued to play in the AAGPBL until the league ended in 1954.
Today, Rockford residents and visitors can enjoy learning about the Rockford Peaches at Midway Village Museum. There is an exhibit called "The Girls of Summer" where the museum highlights historical artifacts and even an original Rockford Peaches uniform in the museum. Guests can also visit the original Beyer Stadium in Rockford to see where the Peaches played. A group called the Friends of Beyer Stadium helped restore the original field and added historical markings and signs to the area.