FVV Finals Watch Party
Congrats to Rockford native, Fred VanVleet, and the Toronto Raptors on winning their first NBA Championship! Thank you to everyone who attended the Jurassic Park RKFD watch parties to cheer on our hometown hero and watch history be made by the Raptors!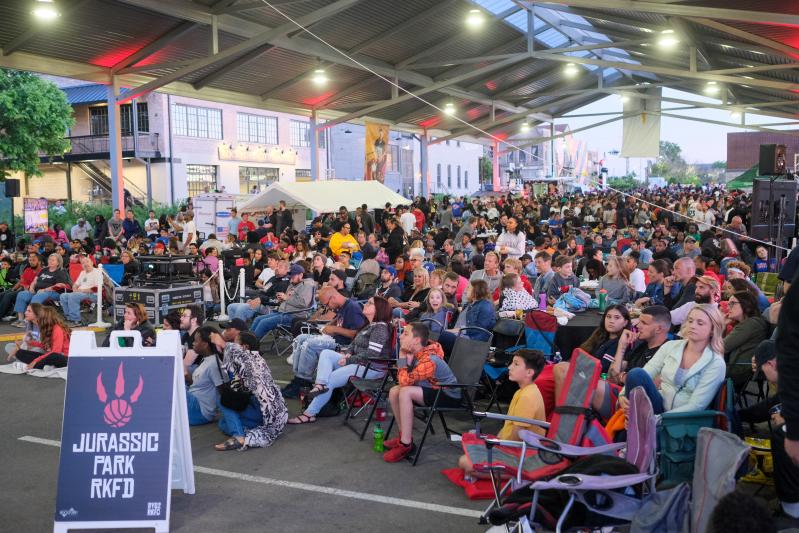 Jurassic Park RKFD
Located at the corner of East State and Water Streets, Jurassic Park RKFD featured two jumbo screens airing games five and six, the FVV Shop Pop-Up Store, food and beverage trucks, a pre-game DJ party and VanVleet signage for photo opportunities.
Food/beverage vendors on site included 15th & Chris, Olivo Taco, The Bell Churros, Pizza Fresca, Wok n Roll by Bamboo, The District, and Prairie Street Brewing Co. (no outside food/drinks allowed). 
Fred VanVleet
A Rockford native and Auburn High School graduate, VanVleet helped lead the school to a 22-game winning streak and third-place finish at the 2012 IHSA State Tournament. The point guard went on to play for Wichita State University, earning multiple All-America accolades while leading the team to the NCAA Final Four. In 2018-19, VanVleet averaged career highs of 11 points and 4.8 assists per game during the regular season.
Sponsors
Thank you to our sponsors who stepped up to underwrite the Watch Party:
Michael & Jo Ellen Born
Fehr Graham
GrahamSpencer
Frank Haney
Bobbie Holzwarth & Norm Lindstedt
KMK Media Group
Thomas McNamara
Jim & Lucy Pirages
River District Association
Rockford Chamber of Commerce
Rockford City Market
Rocktown Adventures 
Michael Shalbrack
Wintrust Commercial Banking
Workplace
WTVO / MyStateline